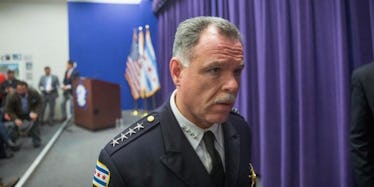 Chicago PD Superintendent Fired After Video Of Teen Being Shot Released
Getty Images
The superintendent of the Chicago Police Department was fired amid controversy over the shooting of a black teenager.
According to the Chicago Sun-Times, earlier today, Chicago Mayor Rahm Emanuel announced at a press conference he called Garry McCarthy last night to inform him he was relieved of the position Emanuel personally selected him for in 2011.
It appears Emanuel met with McCarthy, 56, to ask for his resignation shortly before officially firing him.
McCarthy's firing comes days after the release of dash-cam video showing Police Officer Jason Van Dyke firing 16 shots into Laquan McDonald last year.
The mayor's office and police department tried to keep the video hidden until a court order forced its public release last week, Huffington Post reports.
Emanuel told reporters the public's trust of the department "has been shaken and eroded."
He also announced the creation of a task force to increase police accountability.
Emanuel reportedly said,
Our goal... is to build the trust and confidence of the public and, at this point, in this juncture for the city, given what we're working on, he had become an issue rather than dealing with the issue and a distraction.
The US Attorney's office is currently investigating the city's handling of McDonald's shooting.
Another factor in Emanuel's decision seems to be the violence of gangs, one of which took the life of 9-year-old Tyshawn Lee earlier last month.
First Deputy Superintendent John Escalante will serve as acting superintendent while the police board searches for a permanent replacement, ABC News reports.
McCarthy was the operations chief for the NYPD before becoming the chief of police in Newark, New Jersey.
Emanuel hired him as police chief after his first choice for the job, former Chicago Deputy Superintendent Charles Ramsey, asked for a salary of over $400,000.
News sources reportedly stated McCarthy was "shell-shocked" to learn of his termination.
Citations: Chicago Police Superintendent Garry McCarthy Asked to Resign After Shooting Video Controversy (ABC News), Chicago Mayor Fires Citys Top Cop In Wake Of Laquan McDonald Criticism (Huffington Post), Emanuel fires McCarthy (Chicago Sun-Times)