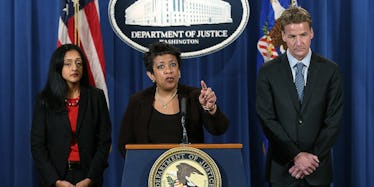 Attorney General Announces Investigation Of Chicago PD After Police Shooting
Getty Images
On Monday, US Attorney General Loretta Lynch announced the Department of Justice will investigate the Chicago Police Department for possible constitutional violations, NBC Chicago reports.
.@LorettaLynch announces @TheJusticeDept investigation of #Chicago Police Deptartment. #LaquanMcDonald https://t.co/1eLxgNhzjX — CSPAN (@cspan) December 7, 2015
This move is largely a response to the ongoing controversy and public outcry surrounding the police killing of teen Laquan McDonald by Officer Jason Van Dyke in 2014.
It also came just a week after the CPD Superintendent was fired by Chicago Mayor Rahm Emanuel.
Lynch said,
[The DOJ] will examine a number of issues related to the CPD's use of force, including its use of deadly force; racial, ethnic and other disparities in its use of force; and its accountability mechanisms, such as its disciplinary actions and its handling of allegations of misconduct... Our goal in this investigation – as in all of our pattern-or-practice investigations – is not to focus on individuals, but to improve systems; to ensure that officers are being provided with the tools they need – including training, policy guidance and equipment – to be more effective, to partner with civilians and to strengthen public safety.
Lynch highlighted the particular importance of restoring trust between the public and police in Chicago, which has eroded substantially in recent weeks.
McDonald was shot 16 times allegedly by Officer Van Dyke on October 24, 2014.
Officer Van Dyke was charged with first-degree murder last month, not long before dashboard-camera footage of the shooting was released, prompting outrage and widespread protests in Chicago.
The disturbing footage allegedly depicted Van Dyke opening fire on McDonald as the 17-year-old walked away from officers, and continuing to fire after McDonald fell to the ground. This footage reportedly contradicted police accounts of the shooting.
There was also evidence police erased surveillance video from a Burger King near the scene of the shooting.
Correspondingly, both the mayor's office and police department tried to keep the dash-cam video hidden from public view until a court order forced the city to release it. Months earlier, in April, the city paid Laquan McDonald's family a $5 million settlement.
The video was released largely thanks to the work of a freelance journalist named Brandon Smith.
Van Dyke recently pleaded not guilty, and his lawyers argued his actions were justified because he reportedly felt threatened by McDonald. Van Dyke and other officers involved alleged McDonald had a knife when he was shot.
There are a number of questions still unanswered surrounding McDonald's death, and some feel there was evidence of a cover-up.
Citations: U.S. Attorney General Loretta Lynch Announces Probe Into Chicago Police Department (NBC Chicago), AG Loretta Lynch opens Chicago police probe: Text of remarks (Chicago Sun-Times), Chicago Protests Mostly Peaceful After Video of Police Shooting Is Released (The New York Times), Police Accounts Appear to Differ With Laquan McDonald Shooting Video (NBC News), Burger King Manager: Police Erased Video of Chicago Shooting (ABC News), Chicago Mayor Fires City's Top Cop In Wake Of Laquan McDonald Criticism (Huffington Post), Chicago Pays $5 Million to Family of Black Teenager Killed by Officer (The New York Times), How This Journalist Forced Officials To Release The Laquan McDonald Video (Huffington Post), Justice Dept. to Investigate Chicago Police After Laquan McDonald Case (The New York Times), Cover-Up in Chicago (The New York Times)