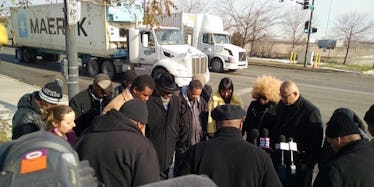 Chicago Police Officer Who Shot Black Teen 16 Times Charged With Murder
Chicago police officer Jason Van Dyke, who is white, was charged with first-degree murder on Tuesday for shooting 17-year-old Laquan McDonald, who was black.
McDonald was shot 16 times on October 24, 2014, according to the Cook County Medical Examiner's Office, The New York Times reports.
Van Dyke reportedly turned himself in to the Cook County Criminal Court on Tuesday morning.
The murder charge was issued in response to a city deadline to release video footage of the shooting from the police dashboard camera. Last Thursday, a judge ordered the video must be publicly released by Wednesday.
The video reportedly shows McDonald walking away when he was shot and Van Dyke shooting multiple times after the teen had already fallen to the ground. Chicago leaders expect protests when the video is released.
Officials say McDonald had PCP in his system and was carrying a knife, which he refused to drop and with which he punctured a tire on the squad car.
Chicago agreed to pay McDonald's family $5 million in April -- before his family filed a suit.
This is the first time a Chicago police officer has been charged with first-degree murder for an on-duty shooting in almost 35 years, according to the Chicago Tribune. Van Dyke will reportedly face a minimum of 20 years in prison if he is convicted.
Citations: Chicago cop charged with murder for shooting black teen 16 times (USA Today), Chicago Officer Charged in Death of Black Teenager (The New York Times), Chicago leaders urge calm before police shooting video released (CNN)