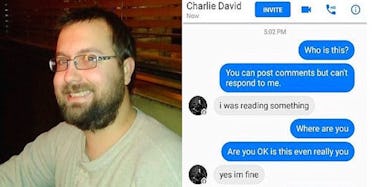 Eerie Messages May Prove Kidnapper Pretended To Be Missing Man On Facebook
Facebook
On August 30, Charlie Carver and his girlfriend, Kala Brown, reportedly went missing.
After months of searching for the couple, Greenville Police finally found the 30-year-old woman "chained like a dog" inside a storage container in Woodruff, South Carolina yesterday.
However, Carver was nowhere to be found. Now, authorities are desperately trying to find the missing 32-year-old man.
The owner of the property, 45-year-old Todd Kohlhepp, has been arrested in connection with the kidnapping of Brown.
Apparently, this is not Kohlhepp's first run-in with the law.
Kohlhepp is a registered sex offender, who was arrested at the age of 15 for kidnapping and sexually assaulting a 14-year-old girl. He was sentenced to jail from 1987 to 2001.
Greenville Online reported that Kohlhepp, who is a real estate agent, employed Brown to help him clean properties just weeks before the couple disappeared.
If you've been keeping up with the investigation, you may have heard reports about a series of creepy and unexplainable posts showing up on Charlie Carver's Facebook page.
Shortly after the couple's disappearance, Charlier Carver's Facebook page began showing strange status updates, news links, memes and even a post claiming he and Brown had gotten married.
As you can imagine, these eerie Facebook posts have been frightening family members, who desperately want to know what happened to Carver.
What's even scarier is the missing man's alleged kidnapper may have even been communicating with the family through Facebook Messenger and pretending to be Carver.
One concerned family member sent Carver a message on Facebook asking if he was OK. He received a response from Carver's account that said, "I'm fine."
However, the family doesn't believe the person was really Carver.
Instead, they think the person behind these messages is an imposter who hacked into Carver's account, since the styles of these Facebook posts don't align with the way Carver normally communicates.
Kohlhepp is scheduled for an initial hearing at the Spartanburg County Jail today as the police search for Carver continues.
Citations: Hunt for the boyfriend who went missing with chained up girl two months ago as she's found in a crate - as suspect is revealed to be a 'monster' who was jailed for 'raping a 14-year-old when he was a teenager' (Daily Mail)