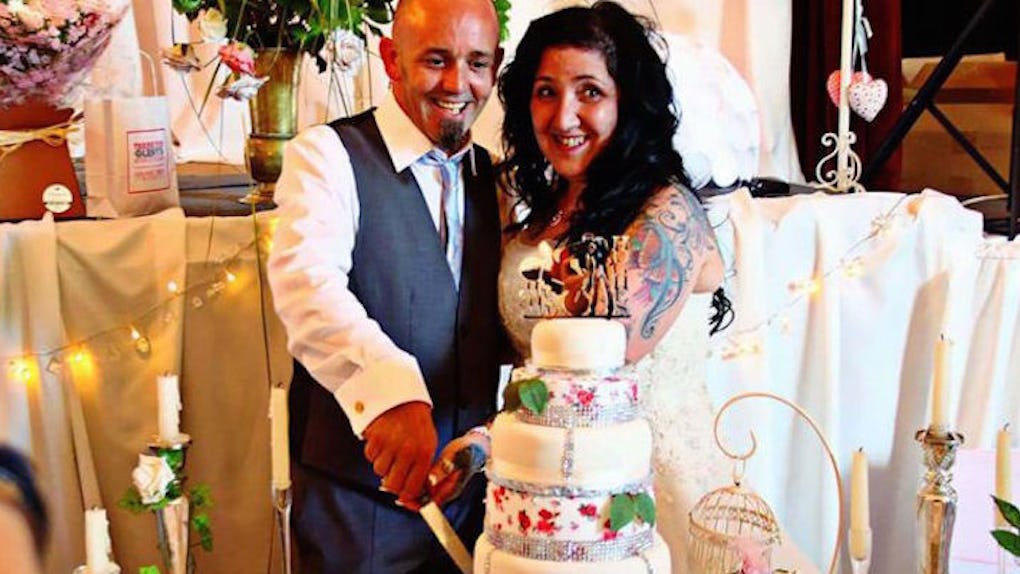 News Group Newspapers Ltd
Bride Sends Store Manager Pic Of DIY Wedding Cake, Gets Brutal Response Back
Marrying the love of your life can be pretty emotional. So, it should come as no surprise that most brides shed a few tears on their wedding day.
However, it wasn't the overwhelming feeling of love and happiness that brought on the water works for Trinity Hughes, a 52-year-old bride from Stapleford, England.
Shortly after saying "I do", Hughes sent an image of her four-tier, "create your own" wedding cake to the manager of the Marks & Spencer store in Ilkeston, where she originally bought it.
It turns out that the manager had asked Hughes to send him a photo of the finished cake because the store had made several mistakes, which caused the cake's pick-up date to be delayed by almost two weeks.
His reaction to the cake was brutal, to say the least. He replied to Hughes' text with a simple message that read,
That cake looks like shit.
Hughes told The Sun,
I burst into tears. It spoiled what was a perfect occasion. I am assuming he didn't mean to send it to me. I assume he thought he was sending it to someone internal, or a friend. But that isn't the point. It's unforgivable.
Apparently, Hughes had to push the pick-up date for her cake because the store had originally made her cake in the wrong color. After that, they gave her a cake that had a sell-by date that was before her big day.
After receiving the hurtful message, Hughes called the manager. He answered the phone, said he was on vacation and hung up.
A spokesperson from the M&S store told Metro UK,
We pride ourselves on delivering the best possible service for our customers, especially when it's a special occasion. Clearly what has happened is unacceptable. We've apologized to Ms. Hughes and are conducting an investigation.
The manager has since apologized to the heartbroken bride, and has sent the newlywed couple some champagne and flowers in an attempt to show how sorry he is for sending that monstrous message.
Citations: Bride receives brutal reply from M&S boss after sending him wedding cake picture (Metro UK)