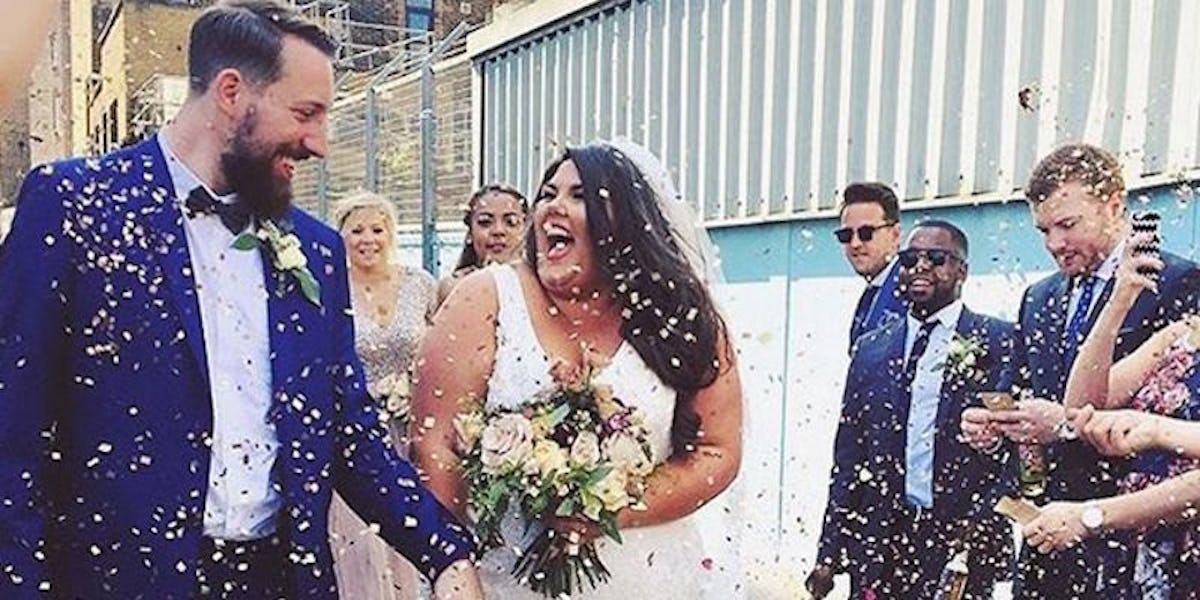 Curvy Fashion Blogger Wrote Body-Positive Message All Brides Need To Hear
Instagram
Thanks to the body positive movement, we've seen an increasing number of ladies speak out against the unrealistic beauty standards of the fashion industry.
From models who want to #DropThePlus and eliminate hurtful labels to women who are challenging beauty "norms" by showing off their #MermaidThighs, we've seen a variety of social media campaigns that are encouraging women to love their bodies.
Now, we're even seeing women challenge the standards of the wedding industry.
Callie Thorpe, the London-based stylist behind the fashion blog, From The Corners Of The Curve, is a fearless fashionista who's on a mission to show the world every bride is beautiful in her own special way.
A couple weeks ago, Thorpe walked down the aisle in a champagne-colored fishtail gown and married the man of her dreams, Dan Hetherington.
Like most modern-day brides, Thorpe posted a picture of her dazzling dress on Instagram.
However, this sentimental snapshot was by no means your ordinary wedding selfie.
Instead, Thorpe used her photo as the perfect opportunity to deliver a powerful body-positive message to her fellow brides.
The caption on Thorpe's stunning photo touches on everything from her doubts of getting married and her worries of feeling self-conscious in a wedding dress to her realization love has nothing to do with size.
Thorpe ends her message on a strong note, writing,
Do not feel you have to change yourself or your size to be happy on your wedding day, your partner loves you for who you are, not just what you look like. You are deserving of happiness no matter what your size...
Apparently, Thorpe wanted to share this special message because she felt the wedding industry often left plus-size brides out of the picture.
Furthermore, she wanted to let women know they don't have to change who they are in order to get married and live happily ever after.
If you ask me, this beautiful bride is certainly an inspiration to all.
Citations: Blogger shares beautiful wedding post as inspiration to brides of all sizes (Metro UK)