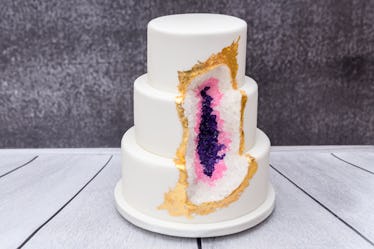 Couples Are Getting Beautiful Geode Wedding Cakes And They Rock, Literally
Shutterstock
When it comes to tying the knot, it seems that recently, a lot of couples have been shying away from traditional weddings.
Whether it's ditching the diamond ring for a gorgeous gemstone, swapping out the classic white gown for a colorful wedding dress or opting for a fun choreographed entrance instead of a boring walk down the aisle, we've seen couples find all sorts of ways to put a unique spin on their special day.
If you're looking for a way to add an eye-catching element to your dessert table, you'll be glad to know we recently came across a new wedding cake trend that totally rocks. No, really, I'm serious.
Apparently, "geode cakes" are all the rage this wedding season and now, lots of brides are swapping the plain white buttercream frosting for some towering tiers smothered in sparkly stones.
These intricate hand-crafted cakes look cool AF so it's not hard to see why brides are falling head over heels for these crystal-clad confections.
From colossal cakes covered in edible amethyst to delectable desserts decked out in rock candy designs, there are all sorts of ways you can get in on this tasty wedding trend.
Check out the pictures below for a closer look at these insane wedding cakes.
Forget the plain old white wedding cake...
...because there is a new way to put a sweet spin on your cake.
Lots of brides are forgetting about the traditional tiered treats...
...and opting for some incredible rock candy accents.
That's right. Geode cakes are taking the wedding scene by storm...
...and it's not hard to see why people are going crazy over these crystal-clad cakes.
These intricate, hand-painted treats are insanely beautiful.
Plus, it doesn't hurt that these baked goods look seriously badass.
So far we've seen everything from semi-precious stones mixed with pretty petals, to wedding cakes piled high with silver pebbles, to dreamy desserts decked out in gorgeous gemstones. Elegant frosted rock formations look real with swirly geodes made out of sugar and metallic marble frosting that's guaranteed to make your mouth water.
This article was originally published on