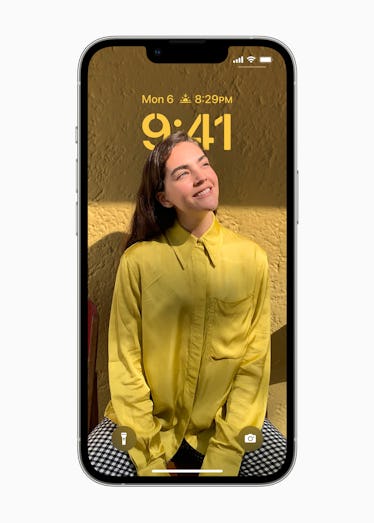 Apple's iOS 16 Update Includes New Messaging Features You'll Love
The limit of messages I will unsend does not exist.
ICYMI, Apple previewed its annual iOS revamp at the 2022 Worldwide Developers Conference (WWDC) on June 6. Yep, iOS 16 is on the way, and there's so much to check out. Though the iOS 15 update included a handful of noteworthy features in September 2021, like new emojis, Face ID with a mask, ambient rain sounds, and even sharable Facetime links, iOS 16 is about to be a game-changer now that iPhone users will be able to edit and unsend messages on iMessage. No, seriously – it's happening. Here's what you need to know about all the new features in the upcoming iOS 16 update, including unsending and editing texts, plus which devices got the ax, and the software release date.
Prior to the iOS 16 announcement, there was speculation about mixed-reality headsets and always-on display, but on June 6, Apple put that speculation to rest and previewed iOS 16 in all of its glory. Along with the long-awaited unsend message feature, the company also announced the iOS 16 update will allow users to mark a conversation as unread (!) and recover recently deleted texts. Plus, you'll also be able to unsend and schedule emails in the Mail app, personalize your Lock Screen with new text and color options, and so much more when the update becomes available later this fall. Here's the rundown on all the exciting changes coming to Messages, Mail, and more that are definitely going to save you from some major faux pas.
iOS 16 Release Date
According to a Sept. 7 release on the Apple website, you can expect to see the new software roll out on Sept. 12.
New Features In Messages
You won't have to stress over embarrassing autocorrect mistakes for much longer, because iOS 16 will allow users to edit recently sent messages, or even unsend them altogether. Plus, you'll also be able to mark messages as unread so you can return back to them later, recover recently deleted texts, and chat with your besties in the app while using SharePlay to watch your fave movie.
New Features In Mail
Speaking of unsending messages, the iOS 16 version of Mail will give you an opportunity to unsend an email moments after you've sent it, because there's nothing worse than forgetting to include an attachment in an email. You'll also be able to schedule emails ahead of time or resurface a message at a specific date or time with Remind Later.
New Live Text Features
Apple is expanding its time-saving Live Text feature to recognize text in videos, which means you'll be able to pause on any frame and interact with the text in real time.
Personalized Lock Screen
If you thought that adorable pic of your pet on your Lock Screen was personalized enough, just wait. iOS 16 is introducing a new multilayered effect that centers the subject in front of the time to create a sense of depth, and will offer users the ability to change the time and date with fun new styles and color choices. Not to mention, you'll also be able to add various widgets to the Lock Screen, such as weather, Activity ring progress, and battery levels.
Manage Your Connected AirPods
Once you've paired your wireless headphones to your iOS 16 device, a new section in Settings will appear below your name that will allow you to easily access noise control, battery life, noise cancelation, and more.
Visual Look Up
Give your photos a new life with Visual Look Up. Visual Look Up lets you tap and hold the subject of a photo and lifts it from the background so that you can transfer it to places like Messages.
New Wallet Features
Much like other popular buy now, pay later services, iOS 16 will include Apple Pay Later, which will split up your purchase into four equal payments spread out over six weeks with no interest or fees. Another feature coming to your Wallet soon will be Apple Pay Order Tracking, where you can find detailed receipts and order tracking information for Apple Pay purchases with participating merchants.
New Safety Check Feature
The company also unveiled a new privacy tool called Safety Check that will allow you to quickly revoke all access you've granted to others. You'll also have access to an emergency reset to log out of iCloud on other devices, reset privacy permissions, limit messaging to one device, and help users keep track of which apps and people they've granted access to.
New Accessibility Features
iOS 16 will also include new Accessibility features, like Door Detection. Door Detection will allow blind or visually impaired iPhone users to navigate the last remaining feet to their destination. Plus, FaceTime will also be implementing Live Captions to make it easier for deaf and hard of hearing users to follow along.
iCloud Shared Photo Library
With iCloud Shared Photo Library, you can share, collaborate, and contribute photos to a separate iCloud photo library with up to six people. Every user given access to the library will have the ability to delete, favorite, or edit photos. Plus, you'll also be able to add photos by either using the new toggle in the Camera app, or select existing photos from their private Camera Rolls.
New Health App Features
The Health app will have a new Medications section where users can not only make a list of their medications, but also create schedules and reminders, and keep track of which meds they've taken throughout the day. You can read more about your medications just by pointing your camera to the label, and the app will even alert you if there are any potential critical interactions for their medications.
Supported Devices
According to the Apple blog post, the new software update will be available for iPhone 8 and later. So if you have an iPhone 6 or 6S, iPhone SE, iPhone 7 or 7S, you might not want to get too fast and loose with that send button, because you won't be able to unsend your text messages afterwards.
Between unsending messages, emails, and personalizing your Lock Screen, it's clear that there are a lot of iOS 16 features to look forward to. Though the new software doesn't have a firm release date, it's probably not a bad idea to start making sure your phone will be ready to update when the new software drops sometime in fall 2022.
This article was originally published on