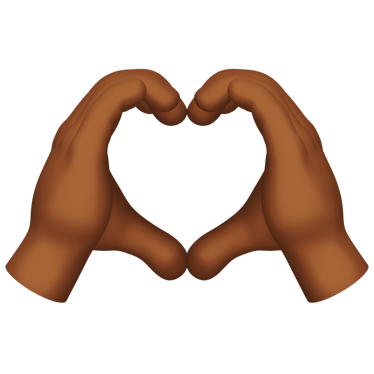 Apple Launched 123 New Emojis In iOS 15.4, Including A Biting Lip And Heart Hands
Why is "face holding back tears" so cute tho???
Courtesy of Apple
A brand new iPhone update is here as of March 14, and there are a few new features that'll seriously upgrade your experience in iOS 15. Apple's iOS 15.4 update includes Face ID while wearing a mask and so many new emojis (123, to be exact), including a biting lip, heart hands, and so many more skin tone handshake combos. The beta version of iOS 15.4 launched in late January 2022, and now iPhone users with at least a 6S device can check out what's new.
First up is a highly-requested update that lets users with an iPhone 12 or newer unlock their device using Face ID while wearing a mask. If you're included in that update group, you can add a new Face ID profile in Settings and then go to "Face ID & Passcode." There, toggle on "Face ID with a Mask," and then scan your face when prompted to fully activate the feature. According to Apple's iOS 15 explainer, the technology "recognize[s] you by analyzing the unique characteristics around your eyes."
Left out of the face mask upgrade? Don't worry, you can still enjoy the 123 new emoji designs. From adding more inclusive options like gender-neutral person with crown and pregnant person as well as more skin-tone combinations in the handshake emoji to fun updates like the biting lip and heart hands emoji, there is plenty to check out.
Be sure to check out all the new smiley options — according to Emojipedia, iOS 15.4 marks the largest number of new smileys in an Apple software update since October 2017. Some of the newbies include a melting face, holding back tears, face peeking with eye, saluting face, and face with diagonal mouth.
On top of that, the emoji update includes characters like the hamsa, bubbles, a disco ball, and new hand gestures like index finger pointing at the viewer, hand with index finger and thumb crossed, and palm up and palm down hands.
iOS 15.4 also includes regular bug fixes and the ability to use Live Text to scan text with your camera to add it to Notes or Reminders.
To make sure you can get in on all the new action, download the iOS 15.4 update (if you haven't already) by going to Settings > General > Software Update.
This article was originally published on