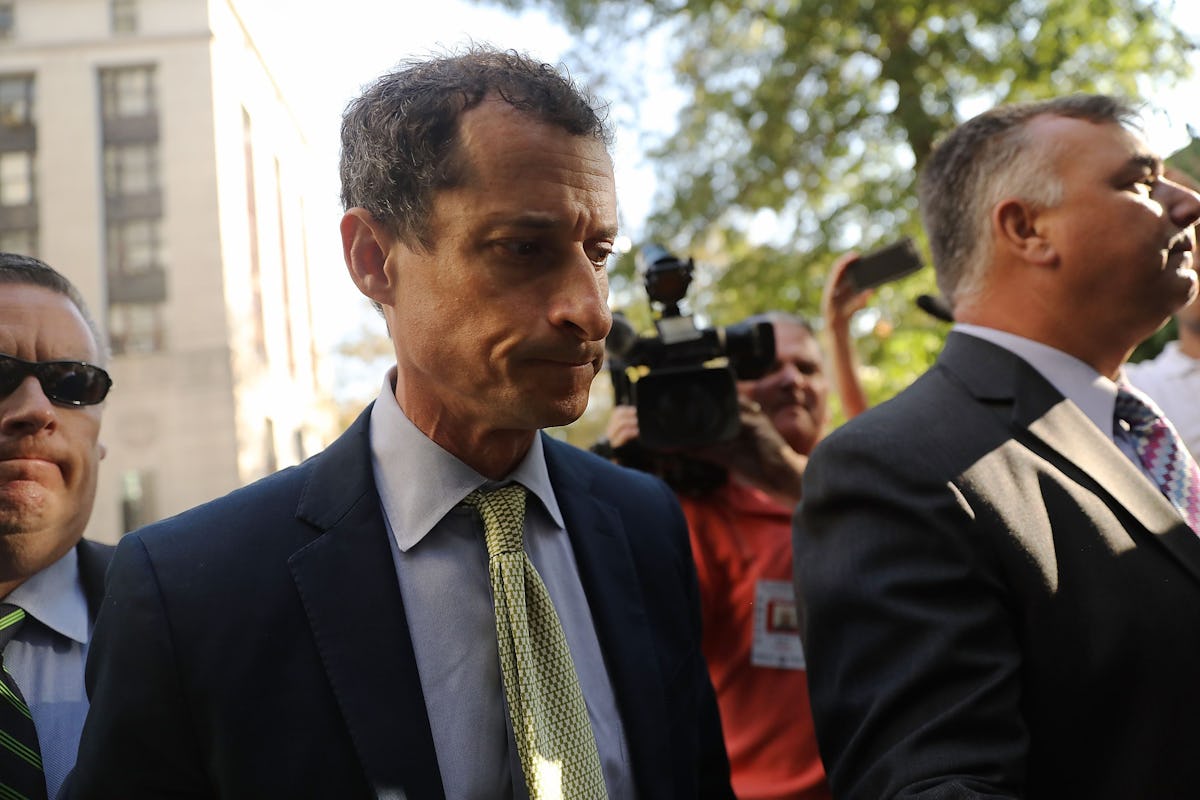 Anthony Weiner Was Sentenced To Jail For Sexting and Twitter Has Let Loose
Getty Images
Former New York congressman Anthony Weiner, who has disgraced his career with ongoing sex scandals and allegations, was finally been convicted and sentenced on Monday Sept. 25 to 21 months in prison for sexting a 15-year-old girl from North Carolina. For once, Twitter agrees on one thing: Anthony Weiner's jail sentence.
Weiner, who faced up to 10 years in prison, pleaded guilty to one count of transferring obscene material to a minor on May 19, 2017. Weiner claimed in his letter to the judge just last week that he had "profound regret" for his crime and that his actions over the past years, which greatly affected his now-separated wife, Huma Abedin, are what "ruined our marriage." Huma Abedin, Weiner's wife and longtime top aide of Hillary Clinton, has been dragged into the public eye for her husband's scandals.
As he submitted his plea, Weiner cried openly about what he did, claiming it was "as morally wrong as it was unlawful." Today, many people on Twitter are outraged at his mere 21-month sentence, but have used this story as a chance to make jokes about his possible 2020 Democratic presidential run, as well as resurfacing the Hillary Clinton email scandal.
Weiner's most recent 2016 scandal emerged while his wife, Abedin, was on the road for Clinton's presidential campaign and Weiner was at home, watching their son.
Abedin announced her intent to separate from her husband last year, just hours after his online relationship with the 15-year-old was unveiled.
Weiner has had a tumultuous few years in and out of office, to say the least. It's hard to keep up with all his different allegations that have happened over the past six years, so here's a quick outline. The publicity first began after he resigned from Congress in 2011 due to the first of many sexting allegations between him and three different women via Twitter. He took full responsibility and quickly resigned from Congress.
Two years later, Weiner reemerged in politics by announcing his run for New York mayor in the 2013 mayoral race. Shortly after the announcement, more photos were leaked of his online sexual relationships with a number of women that had persisted after his 2011 resignation. Despite the controversy, Weiner still finished in fifth place in the Democratic primaries. Fast forward three years 2016: the former congressman's documentary, Weiner, is released, which did some good in repairing his reputation. The documentary provided an inside look into Weiner's personal life as he ran in the 2013 mayoral race, and while the movie didn't erase the facts that we already knew about Weiner's past, the documentary received great reviews for portraying Weiner's shadows sides honestly and dynamically, including a 97 percent on Rotten Tomatoes.
It didn't take long for the public to forget about the documentary after yet another sexting scandal broke in August 2016, when Weiner reportedly exchanged messages with a 40-year-old woman.
However, the incident that landed him in jail was yet to come. In September 2016, a 15-year-old girl spoke out about the online sexual relationship she had with Weiner that started in January that year. Weiner, who reportedly asked the girl to engage in role-playing fantasies, admitted to "flirtatious messages" between the two. The Daily Mail reported the contents of their online conversations.
Weiner cried when the sentence was given Monday morning. He said in court, "This crime was my rock bottom. I have no excuse ... I victimized a young person who deserved better."
After Weiner serves his 21 months in prison, he must finish up his sentence with three years of probation. Weiner must also register as a sex offender and participate in the treatment for sex offenders, which is to be decided by the probation department.
While the jokes continue to surface about his 2020 presidential run, I think it's safe to say his reputation can't be repaired with another documentary or statement in time for the next presidential election.