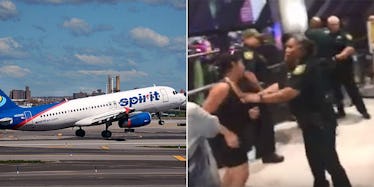 Another Airline Pissed Off Its Customers And This Time There Was A Brawl
Getty Images/YouTube
Yet another airline is at the center of a wild scene at an airport.
This time, the company in the spotlight is Spirit Airlines, whose decision to cancel nine flights on Monday night led to a brawl between customers and police at Fort Lauderdale-Hollywood International Airport.
Here's the cell phone video that captured the chaos:
The melee was a result of angry passengers overwhelming Spirit Airline employees, passengers told WSNV-TV, a Fox affiliate station located in Miami.
One of those passengers, Paul Smith, said,
All of a sudden, one particular flight got canceled, and a mob ensued up here at the front counter, in front of everyone else who had been waiting in line.
Another passenger told WSNV-TV,
At that point, the ticket agents couldn't handle what was going on, so they called in for the police.
The cancellations in Fort Lauderdale were just a part of an overall trend that has plagued Spirt Airlines over the last few days, according to CNN. In the past week alone, there have been 300 cancellations of Spirit Airline flights.
But the cancellations aren't the fault of the company, according to, well, the company.
There appears to be a (non-physical) fight going on between the company and the pilots' union, the Airline Pilots Association, International. They've been battling over contracts since 2015, according to CNN.
Spirit is claiming that the cancellations are happening because pilots are intentionally slowing down operations. The pilots have denied they're doing that.
Spirit spokesman Paul Berry referred to the airport fight as a result of the dispute between the airline and its pilots. He said in a statement,
We are shocked and saddened to see the videos of what took place at Ft. Lauderdale/Hollywood International Airport. This is a result of unlawful labor activity by some Spirit pilots designed to disrupt Spirit operations for our customers, by canceling multiple flights across our network. These pilots have put their quest for a new contract ahead of getting customers to their destinations and the safety of their fellow Spirit Team Members.
Spirit, in essence, has accused the pilots of purposely causing chaos by refusing to fly. The company filed a federal lawsuit on Monday against the pilots' union in order to "protect" customers, Berry said.
The pilots' union shot back in a statement to CNN,
ALPA and the Spirit pilots are continuing to do everything possible to help restore the company's operations, which have experienced significant problems over the past several days.
Spirit is, of course, just the latest airline to have controversy on its hands.
United Airlines infamously found itself in hot water twice, first by refusing to allow two teens with leggings onboard a flight and most recently by having police drag a man out of his seat.
Ultimately, United paid an unknown settlement to Dr. David Dao and changed some of their policies to avoid future problems.
Not to mention there was that giant rabbit mysteriously dying on a United flight.
In other words, 2017 is the year in which we acknowledge the worst-kept secret: Air travel sucks.
Citations: Spirit Airlines cancels flight, passenger brawl breaks out (CNN)