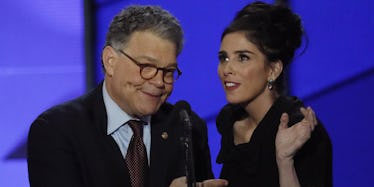 Anonymous Hacked Sarah Silverman's Twitter And Posted This Super Creepy Tweet
REUTERS
I hate writing articles about Anonymous because I am legitimately terrified of them.
So before I start, let me just make this disclaimer: Hey Anonymous, please don't hurt me. I bear you no ill will. I am simply a reporter reporting a report of your activities. You are big. I am small.
All right, now that that's out of the way, I will begin.
Sarah Silverman spoke last night at the DNC and specifically called out the "Bernie or Bust" protesters, saying they were "being ridiculous."
If you haven't seen it, check out her full speech:
Anonymous (an international network of social activist hackers, if you didn't know that already), apparently did not like what she said at all because the group promptly hacked her Twitter.
The hackers used it to send out this tweet of a video they published on Hillary in April.
Sarah Silverman deleted the tweet as quickly as she could, but the fact that they could take over her Twitter at a moment's notice is a testament to how capable the hacker group is.
The video in question is a critique, obviously, of Hillary Clinton's political history and a warning Anonymous will use its powers to fight against her.
If you want to check it out, the video is pretty, like, cool-looking.
Citations: Mashable