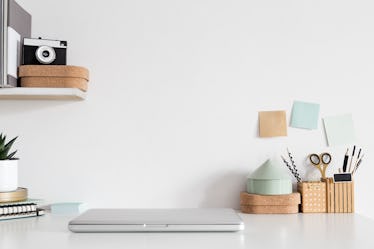 These Zoom Backgrounds Will Make Your Video Calls Look Super Professional
Shutterstock
Many people are virtually tuning into their workplaces: Remote video conferencing platforms like Zoom allow you to easily connect with your coworkers without leaving the house, and you can even add an office background for Zoom that'll give your chat a more professional feel while you're plopped on the couch. From classic office backgrounds to more modern looks, here are 8 Zoom office setting backgrounds you can try while you work from home.
If you've got to hop on an important call, your messy bedroom in the background probably won't cut it. Thankfully, there are plenty of background options that'll replace your messy bedroom with a more professional Zoom office background. Plus, you can even use your office backgrounds for Zoom as a chance to virtually upgrade your space, with options that add lush greenery and sleek furniture.
To get started using Zoom's virtual background feature without a physical green screen, you'll need to have a PC with Zoom version 5.2.0 or higher, or a Mac with Zoom version 4.6.0 or higher. You can also use the Zoom mobile app (version 5.3.0 or higher) for iOS and Android, which is compatible with iPhone 8 or later, iPad Pro, fifth generation iPad or later, and Android 8.0 or higher.
Once you've created an account and signed into Zoom, you can change your virtual background by heading to Settings and selecting the Virtual Background tab. You can also upload your Zoom office background during a call by clicking the up arrow next to the video camera in the bottom left corner, and selecting "Choose Virtual Background." You can use Zoom's backgrounds or upload your own with a high-res image or video from royalty-free image services like Pixabay, Unsplash, and Pexels. If you're able, you can donate to the photographers when you download any of the office backgrounds for Zoom. Here are the top picks if you're looking to upgrade your next conference call with a Zoom office background:
1. Conference Room Zoom Background
This modern conference room background of a bright and airy conference room comes complete with a long table, a cheery plant, a pop of blue in the artwork, and a natural tone on the conference room chairs.
2. White & Gray Aesthetic Zoom Background
With white walls, a white table, and light gray chairs, this aesthetic office background for Zoom gets a pop of color from a wooden wall accent and two succulents.
3. Cozy & Modern Desk Zoom Background
This Zoom office background with dark wood and pops of yellow emulates the feel of working from a restaurant or coffee shop.
4. White & Black Conference Table Zoom Background
The minimalist white conference room features two touches of greenery and black chairs for the perfect office Zoom background when a team meeting is on the calendar.
5. Bright & Modern Zoom Office Background
This office desk Zoom background seamlessly blends in with the light and bright aesthetic with the living room behind it, and the bold blue paintings and greenery add the perfect pops of color.
6. Creative Workspace Zoom Background
With greenery and perfectly placed paint cards for a little color, the natural aesthetic of this creative workspace will have the ideas flowing in your meeting.
7. Office Zoom Background With A City View
You get coworkers plus a city view with this office background for Zoom that features floor-to-ceiling windows to give you a view of skyscrapers and the city below.
8. Cozy Office Zoom Background
Warm wood tones, a large bookshelf, and leather chairs make this office background for Zoom the ultimate cozy setting for you next meeting.
Once the workday (or school day) is over, you can play around with more fun Zoom backgrounds. From simple Zoom backgrounds to a Harry Potter Zoom background, there are plenty to help you spice up your next chat with friends or virtual work happy hour.
Or, if you don't want the hassle of uploading a background, you can simply blur your Zoom background and keep the focus on the meeting at hand. There really are so many options, so make sure you try some out during your next WFH day.
This article was originally published on