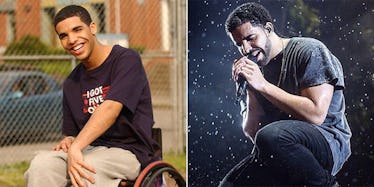 How Drake Managed To Go From Child Actor To International Rap Star
Instagram
The journey of Aubrey "Drake" Graham has been an epic one.
It's not every day rap stars start off as Canadian child actors, go on to join one of the best hip-hop groups (YMCMB) and then go even further to become one of the hottest artists in the game.
You'd be lying to yourself if you said you thought this would be the future of hip-hop one day.
Fake it 'til you make it, but damn. He really went in!
Meek Mill's claims that Drizzy doesn't write his own sh*t are besides the point. Mind you, the dude's an actor!
Whether you f*ck with Drake or not, you have to respect the amount of hits he's put out over the years and for how he seems to find himself in the winning team's locker room at every sporting event he goes to.
If one thing's for certain, it's that Drake will be one of the greatest actor-turned-rapper-turned-back-t0-actors again in the history of this business.
Before he was famous, he was just a regular kid from Toronto.
Like countless kids from your high school, Drake had dreams of one day becoming a rapper -- for the money, cars and women, of course.
The only difference was that he was actually a pretty talented actor and, like most rich kids, had the financial backing to help get him there.
But real talk. Just ask Tyga.
Shortly after his acting days starring in "Degrassi," Drake went hard and pursued a career in music that eventually linked him with the likes of Lil Wayne and Nicki Minaj in Young Money.
Then he ventured out solo to do some great things.
But even early on in his acting career playing Jimmy, we could sort of tell there was a potential star in the making.
Damn that show was corny.
Then, there was that episode that changed everything and NWTS.
His character was transformed from Jimmy to "Wheel Chair Jimmy" in a pretty f*cked-up scene I don't even know why they put on TV. But Drake would not let this one moment define his career.
The memes live on, but Drake can say he overcame it.
It's safe to say he did a lot for wheel chair awareness when he played that difficult role, so shout out to that.
Drake's journey to the top of the music industry was not a conventional one, but he still made it work his way.
When you know you got bars, you just know you got bars.
Nobody besides Drake believed in Drake, which is what makes him so damn great. Being a child actor might've hurt other rappers trying to break in but not Drizzy.
He's just too damn nice!
He went for his dreams and used everything he had to leverage his shot. And when he got that shot, he killed it.
Since then, he's dropped three platinum albums, four mixtapes and, of course, made out with Madonna.
God, that sh*t was nasty AF.
In 2012, Drake already surpassed Jay Z on Billboard's hip-hop chart for the most no.1 hits.
Drake then conquered the charts again last year setting a new record for having 14 of his songs on the Hot 100 at the same damn time.
And "Started From The Bottom" has over 180 million plays on YouTube.
Just earlier this year, his 72nd song landed on the mainstream chart, surpassing The Beatles for the impressive number of hit singles.
With an estimated net worth of $75 million, he's well on his way to becoming one of the richest rappers.
If dominating the charts wasn't enough, he's been putting other artists on the map too.
Working with The Weeknd to Makonnen, he helped two unknown artists get their first real exposure.
Getting on remixes with Migos and Fetty Wap, he brought more ears to some dope new music.
And touring with A$AP Rocky and Kendrick Lamar early on in their careers, he showed them what touring was all about.
Real influence is helping out other artists and developing music culture.
Drake is one of the most collaborative artists in the game.
He's doing it the right way and, aside from Chris Brown, he's been keeping the peace and making the music.
His acting career is waiting for him to come back.
Once Drake decides to make his comeback to the silver screen, we know he's going to go off. He hosted "SNL" last year and killed it.
But he really proved himself when he hosted the ESPYs last year and was straight up hilarious.
But whatever he decides to do next, you can expect him to keep delivering for his fans.
With another album titled Views From The 6 on the way later this year, expect even more Billboard records to be broken and more weird-ass music videos like the one for "Energy."
The f*ck was that?
Whether you're a supporter of Drake or not, you've got to respect his hustle and remember one thing: He's Canadian.