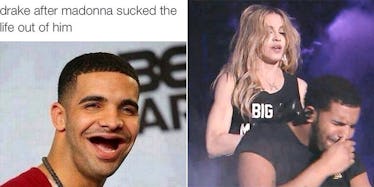 How Drake's Life Forever Changed After Getting Tongue F*cked By Madonna
Drake nearly had the life force sucked out of him when Madonna made out with him onstage during his set at Coachella.
Nothing will ever be the same for Drizzy after this:
His reaction says everything we need to know:
Drake can now say he knows what the entire industry tastes like! I'm talking all the way from Tupac to Basquiat, Dennis Rodman and hell, I think even Bobby Flay hit it!
He should've expected nothing less after bringing out the 56-year-old singer while he performed his song "Madonna" in front of a packed crowd. She stays wildin' in the moment, and let's just thank God she didn't drop the drawers.
Drake's ambition finally bit him in the ass, and he may need a few weeks to recover from this.
Keep in mind, this was a historical moment that will forever be talked about and remembered. Let's take a closer look into what was going through Drake's mind when it happened.
Nothing could've prepared Drake for what was going to happen to him at 'Chella this weekend.
Something strange was in the air from the second he took the stage.
This is the moment that will forever shape the rest of his life.
Let's just say, reality did not meet expectations.
The truth is, it was even worse.
At 56 years old, Madonna is out here looking for more life.
madonna and drake pic.twitter.com/bUsAtFb8mH — ZERO COOL MANO™ 20/3 (@CallMeMano) April 13, 2015
Drake was just her unfortunate victim.
Drake would be the type to play with the hair, though.
This would be a scary sight for any of us:
You have to commend Drizzy for being strong through this.
Because he was straight-up dominated like prey.
Why does it look like she was dropping eggs in his mouth, though?
At least he has a new album cover!
Let's just hope he doesn't get the Britney curse.
And watch out for that resting Drake face from now on.
Even his mom got concerned and had to check up on him.
After all, Madonna is old enough to be Drake's aunt.
Don't worry about Aubrey, he was soon able to recover.
Despite the near-death experience.
At least Drake can laugh about it now.
Because that sh*t was too crazy.