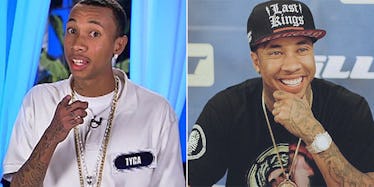 Tyga Is The Rich Kid Who Wanted To Be A Rapper And It Actually Worked
Instagram
The evolution of Tyga won't shock you at all. Or maybe it will.
The controversial California rapper makes more headlines these days for what he's doing outside of music, rather than in it, and that's because he's dating a girl who can't even legally purchase a lighter yet.
Still, it's hard to deny the fact that he's winning, making wild bread and sh*tting on most of our lives at the same time.
Despite all of the tats, gangster lyrics and questionable lifestyle choices, 25-year-old Tyga is not too different from you.
Then again, he also allegedly got caught sexting a tranny and everything we thought we knew about him kind of changed.
Still, he was once just a regular-ass dude who wanted to become a rap star and used his privileged upbringing to help get him there. Now he's enjoying some... other things.
Tyga has been causing controversy since he started dating 17-year-old Kylie Jenner late last year.
Of course, the memes started spreading like wildfire, but that didn't stop them.
New rumors have been flying about the Cali rapper flirting via text with transgender model, Mia Isabella.
This is what you need to know about Michael Nguyen-Stevenson (that's his real name).
Despite originally claiming he was from Compton, Tyga is actually from the suburb of Gardena, and got his name because he looked like Tiger Woods.
He's half-Vietnamese, half-Jamaican and has a loving mother who supported him all the way.
Not to mention, he's a great father who takes care of his son.
When he was 14, Tyga appeared on the MTV game show "Bustas" and confirmed he was a rich kid whose parents drove a Range Rover and a Benz.
So, why is a regular guy trying to act like such a gangster?
Things started off shaky when he dropped freestyles like this.
But he blew up after teaming up with artists like Lil Wayne, Drake and Nicki Minaj in Young Money.
Songs like "Bed Rock" pretty much sum up that whole era.
It wasn't until he dropped "Rack City," produced by DJ Mustard, that he had his first solo hit.
He then started collaborating with Chris Brown, and it was truly a wrap from there.
Tyga started turning his lifestyle all the way up and taking everyone's bitch in the process.
That includes eating like a king every day for breakfast...
And chilling with leopards while counting cash on the PJ.
In 2011, he married video model and stripper Blac Chyna and had his first child with her.
But three years later, they split and he met "The One."
He shadily scoped out Kylie Jenner when she was 14 (and he was 22) at her sister's Kendall's Sweet 16.
Despite all of the controversy (and memes), they've stuck together for the past year or so.
I don't want to say Tyga is responsible for all of this, but...
You can tell he really loves her.
Today, Tyga has a net worth of roughly $8 million and does whatever the f*ck he wants.
But we'll never forget when he was just Michael from the Valley.