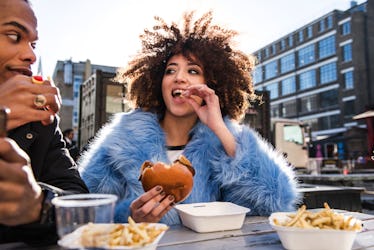 Mercury Retrograde Spring 2023 Will Affect These 4 Signs The Most
Now that spring has fully sprung, your world is probably brimming with new endeavors, ideas, and plans that are demanding all of your time and energy. The start of the astrological new year (aka the *real* start of 2023) marks a time to give your newest ambitions your best shot, but as Taurus season unfolds, you'll be invited to intentionally solidify some of the efforts you embarked on during Aries season. In fact, not only will the sun be moving into this fixed earth sign on April 20, but the very next day, Mercury will station retrograde in Taurus, placing further emphasis on the need to steadily scheme and plan for your next steps. As the planet of communication prepares to retrograde through the cosmos, everyone will be impacted, but only four zodiac signs can say Mercury retrograde spring 2023 will hit them hardest, as they feel their mental wheels screech to a halt.
These cosmic events are definitely not a fan fave for astro enthusiasts, but they are a moment to pause, reflect, and reconsider how to move forward with your current objectives. The ones who will be most affected by this retrograde — fixed signs — are already very familiar with the desire to maintain stability and consistent effort, so the three-week period that Mercury will spend retrograding through a fixed sign will bring some vital shifts to each of their birth charts.
Here's what fixed signs can expect as Mercury stations retrograde in Taurus from April 21 to May 14:
Taurus (April 20-May 21)
If anyone will be feeling this retrograde, it's you, Taurus. As Mercury retraces its steps through your first house starting on April 21, you'll be redefining the ways you express your thoughts, opinions, and ideas. You tend to maintain a pretty consistent mindset, but this retrograde is inviting you to reconsider how you share your perspectives with the world. This will also be a time to reevaluate how you show up physically, another area where you're not as quick to embrace change. Feel free to step out of your comfort zone a little bit — you'll be glad that you did.
Leo (July 21-Aug. 22)
On April 21, Mercury will station retrograde in Taurus, bringing important reevaluations to your career and professional endeavors. You tend to view your work through a very consistent lens, but this retrograde is inviting you to try new things and think outside the box. Feel free to go back to the drawing board as many times as you need to, Leo; it's OK to change your mind. By the end of this transit, you'll be glad you took some extra time to review your plans before putting them on display.
Scorpio (Oct. 22-Nov. 19)
This month, you'll be engaging in some important conversations with romantic partners as Mercury stations retrograde in your seventh house. While things may feel somewhat unstable here, it's only temporary and a time for you to reevaluate your long-term plans for wherever your love life is currently heading. Stability in your connections is very important to you, but in order for your connections to stand the test of time, you have to get clear on what it is that you want, so don't hesitate to communicate this with your current love interest now.
Aquarius (Jan. 19-Feb. 20)
On April 21, you'll be invited to review and renegotiate any current contracts or agreements in your home and private world. You may be planning to change homes, or simply engaging in important conversations with the people you live with regarding your long-term plans for your living situation. Don't worry too much if things are moving slower than anticipated, Aquarius — this period of revision will allow you to eventually move forward with your plans for your home in a way that is certain and satisfying.