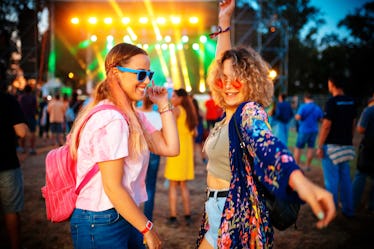 10 Things To Do On Friday Night That Are So Much Better Than The Bar Scene
You won't miss the long lines.
zoranm/E+/Getty Images
Thank goodness it's Friday. You're oh-so-close to being done with work for the day, and you have weekend and wanderlust on your mind more than ever. Maybe you've been planning some adventures with your crew already, or are spontaneously going to see where life takes you. You'll probably spend Saturday in your favorite city, and then take Sunday morning slow with some self-care and bottomless mimosas at brunch. If you're wondering just exactly what to do on a Friday night — whether it's with friends, coworkers, or family — this list is for you.
There's an endless amount of things to do on Friday or Saturday night without drinking that'll have you making memories and dodging the bar scene just the same. Seriously, some of us are so over being stuck in a crowded room with strangers. For some reason, everyone's sweaty, and the line to get a drink at the bar honestly wastes half of your night. You'd rather be doing something where you can hear your friends when you're having a conversation, and not have to worry about ruining your shoes or surviving the night in a pair of heels.
Sure, you could stay in and have a movie marathon. You love your favorite sitcom characters, but you're still so in the mood to do something fun with your crew. And snuggling up on the couch is cozy, but not quite ideal for making the most of your weekend. Does this mean you have to settle for the bar? Nope, not at all. There are at least 10 other options with friends, family, coworkers, or a first date of things to do on a Friday night that are so much better.
This article was originally published on