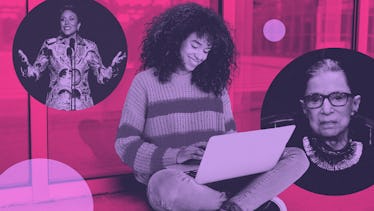 12 Virtual Women's History Month Events That'll Inspire You To Make Your Own Rules
Experience herstory in the making.
Kevin Winter, Chip Somodevilla/Getty Images
Throughout March, there are a number of empowering female-centric virtual experiences you can immerse yourself in from the comfort of your own home to capture and celebrate the spirit of Women's History Month. Whether that means participating in a virtual poetry night from your living room, beating your bestie at trivia about some of the world's most influential female icons, or watching an eye-opening broadcast (from the couch) on forgotten women in history, there are so many ways to celebrate. These 12 virtual Women's History Month events honor past and present female activists and will inspire you to make your own rules when it comes to how you want to live your life.
According to the official National Women's History Alliance (NWHA), the theme of Women's History Month this year is "providing healing, promoting hope." It's an effort to honor the relentless sacrifices of caregivers and frontline workers during the pandemic, as well as all the ways women have provided hope and healing throughout history. Hopefully, hearing the groundbreaking stories in these virtual Women's History month events will inspire you to hold onto hope, just as strong women always have.
Taking part in Women's History Month may look different this year with many usual in-person festivities like art exhibitions and film festivals either put on hold or downsized considerably. But these virtual events provide an opportunity to learn and be inspired from the solace and safety of your own couch or kitchen. And just because you're hanging out at home, that doesn't mean you still can't invite a few friends to hop on Zoom and join you. Whatever activities you choose to sign up for, you'll leave feeling eager to amplify your voice and embrace your own journey.
This article was originally published on