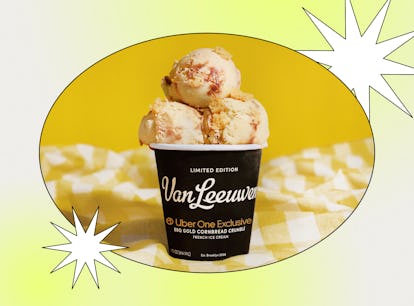 I Tried Van Leeuwen's BBQ Cornbread Ice Cream For A Summer Treat
The limited-time flavor is available starting Aug. 15.
Courtesy of Van Leeuwen
When it comes to ice cream flavors, it really does seem like the possibilities are endless these days. This especially rings true after Van Leeuwen released their viral Kraft Macaroni & Cheese ice cream in 2021. While on paper a cheesy ice cream may sound unappetizing, the flavor was actually a huge hit — so much so that Van Leeuwen sold out for a bit before having to restock months later. Now, the ice cream company has collaborated with Uber One to release a summery BBQ Gold Cornbread Crumble, and I got to try it before its launch.
The BBQ Gold Cornbread Crumble ice cream is exactly what it sounds like — a corn ice cream with cornbread chunks and barbecue swirls mixed in. Just like Van Leeuwen was going for a savory and sweet combo with their mac 'n' cheese ice cream, they're attempting the same here with this limited-time treat. And it truly is limited. A pint of Van Leeuwen's BBQ Gold Cornbread Crumble is only available to Uber One members on UberEats and at Van Leeuwen stores starting Aug. 15. To order the $11 pint, just open your UberEats app, find the Van Leeuwen location closest to you, and add the Uber One BBQ Gold Cornbread Crumble to your cart. The barbecue ice cream flavor will be available until Sept. 15.
Anyone who lives in New York City will have an additional opportunity to try the unique ice cream on launch day. Uber and Van Leeuwen will have pop-up locations around the city for fans to try the flavor. Locations include:
Madison Square Park from 1:30 p.m. to 2:15 p.m.
FiDi Cortlandt St and Church St from 3 p.m. to 4 p.m.
Washington Square Park from 5 p.m. to 6:30 p.m.
McCarren Park from 7:30 p.m. to 8 p.m.
If you're nervous to taste-test a savory ice cream, you're not alone. I was a little hesitant to try the BBQ Gold Cornbread Crumble for myself, but it wasn't as bad as I expected.
Van Leeuwen's BBQ Gold Cornbread Crumble Review
The BBQ Gold Cornbread Crumble ice cream was my first adventurous taste-test after trying French's Mustard Skittles. I think that's important to my review, because I felt really betrayed by those tangy Skittles. I wanted to love them, and they left a really bitter taste in my mouth. Because of this hesitancy, I expected the worst of the barbecue ice cream.
While the barbecue swirls weren't my favorite thing, they also weren't horrible. In fact, it just tasted like you were at a backyard barbecue and someone accidentally used a spoon with sauce on it to scoop out their ice cream so it left swirls behind. The corn ice cream and chunks of cornbread were delicious, and I wish it was just that. However, I understand that cornbread ice cream isn't unique enough on its own. You need the barbecue swirls to really give this treat its potentially viral element.
The first bite of the zesty barbecue sauce in the ice cream was surprising and clashed a lot with the sweet flavor, but unlike the mustard Skittles, I kept going back for more. Eventually, the flavors kind of worked together (emphasis on kind of), and it just felt like I was eating something you'd find at a summer picnic. The flavors were also really summery, so this is a fun treat to enjoy as you're attempting to make the most of the end of the season. I would recommend that any curious foodies who love cornbread and barbecue sauce try the BBQ Gold Cornbread Crumble ice cream. Even if you don't like the barbecue sauce, it's pretty easy to eat around the swirls and just enjoy the corn ice cream.