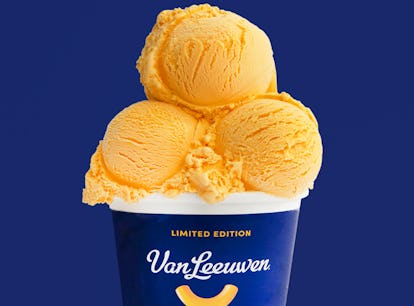 This Popular Mac And Cheese-Flavored Ice Cream Is Finally Being Restocked
The most unique flavor combo of the summer is coming back.
Courtesy of Van Leeuwen Ice Cream/Kraft
In July 2021, Kraft turned two very different comfort foods into a savory-sweet mash-up no one was ready for (but apparently everyone wanted). Kraft and Brooklyn-based Van Leeuwen Ice Cream's limited-edition macaroni and cheese-flavored ice cream sold out online in just one hour, and that left fans wanting more. It took a while for the unique dessert to make a comeback, but it's finally coming back. Here's where to buy Kraft Macaroni & Cheese Ice Cream so you can try the unusual combo for yourself.
ICYMI, the two companies first launched the mac and cheese-flavored ice cream on July 14. Fans scooped up the sweet (and savory) treat as soon as it went on sale, and soon enough there were no pints to be found. Cut to more than a month later, and Kraft's Mac & Cheese Ice Cream is set to make a grand return. You can buy a pint of the cheesy dessert online at vanleeuwenicecream.com starting at noon. ET on Tuesday, Aug. 31, according to an email from Kraft to Elite Daily. The latest drop of the mac and cheese-flavored ice cream will only be online, and since it sold out in the blink of an eye last time, you might want to mark your calendar.
According to Kraft, this ice cream mash-up boasts the cheesiness you know and love from your Kraft Mac & Cheese, and, just like Kraft's new formula, the ice cream is free of unnatural additives like artificial flavors or preservatives. Combining sweet and savory, it's made with cream, milk, cane sugar, egg yolks, and Kraft cheese.
While it's hard to imagine how the company has translated the "comforting, nostalgic feeling from a warm bowl of Kraft Macaroni & Cheese" into a refreshing and sweet scoop of ice cream, you can rest assured knowing Van Leeuwen Ice Cream's motto is, "We only make good things."
If you're brave enough to try this completely wild mash-up, it seems like this scoop will definitely provide some cheesy flavor. Now, just make sure you get on the website at noon ET on Aug. 31 to score a pint of Kraft Macaroni & Cheese Ice Cream for yourself.
This article was originally published on