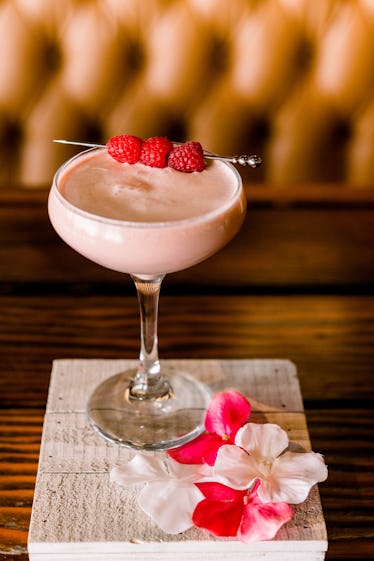 11 Valentine's Day Cocktail Recipes On TikTok You Can Make To Share The Love
Bring on the edible glitter.
Courtesy of Skrewball
Valentine's Day has arrived, and it's time to celebrate with all things sweet, pink, and sparkly. No matter what your love language is, it's always fun to whip up a few festive cocktails with the people you care about on this day of sweet sentiments. Even better: Trying out one of these trending Valentine's Day cocktail recipes from TikTok.
What's so much fun about TikTok is that it's swarming with innovative ideas. Users can make content on anything they want, and that leads to all kinds of experimental food and drink — including cocktails. For Valentine's Day 2022, TikTokers have been blending some of the more traditional V-Day ingredients, like chocolate and raspberries, with more unique ingredients like edible glitter, all to the result of some sparkly, sweet sips.
Just think about how much fun it would be to serve your besties or partner a totally unique Valentine's Day cocktail. You could even decorate the glass rim with heart-shaped candies, strawberries, or sprinkles for an extra sweet surprise. No matter what kind of cocktail you prefer, there's something for everyone on this list of trending TikTok cocktail recipes. So grab a glass or two, gather your ingredients, and mix up some Valentine's Day drinks to show your faves just how much you love them. Cheers!