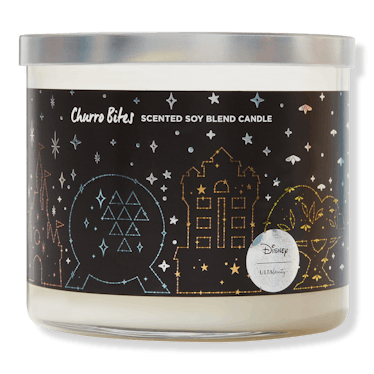 Ulta's Disney Parks Collection Includes A Churro-Scented Candle
Make your home smell like the Magic Kingdom.
Walt Disney World has been celebrating it's 50th anniversary since last October with special events, merch, and menu items. While it's just the Magic Kingdom that's turning the big 5-0, all four parks at Disney World in Florida has been pulling out all the stops. In celebration of the anniversary, each park is also represented in the Ulta and Disney Parks Collection as well, which includes a churro-scented candle, palettes, and glosses.
Disney is no stranger to a makeup collab. In fact, ColourPop just released their second Hocus Pocus collab in honor of Hocus Pocus 2 on Disney+, and beauty guru Patrick Starrr just came out with a Fantasia-inspired collection as well. While the palettes inspired by the four Disney World theme parks in the Ulta x Disney Parks Collection are all cop-worthy, it's the churro-scented candle that is a standout. After all, who doesn't want the scent of fresh Disney churros filling your home whenever you want? It's almost like bringing Disney to you, and will make you feel like you're sitting on Main Street while just chilling on your couch at home.
Since candles are the perfect fall home decor, you'll want to add this speciality candle to your collection, but as a Disney fan, you'll also want to check out the full Ulta x Disney Park Collection to see what else you'd like to add to cart.
We may receive a portion of sales if you purchase a product through a link in this article.