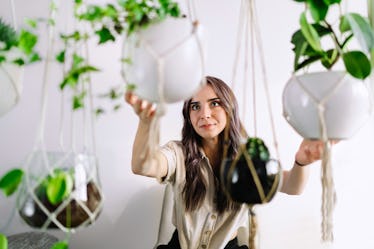 TikTokers Are Showing How To Make Macrame Plant Hangings For Your Best Buds
Adriana Duduleanu / EyeEm/EyeEm/Getty Images
The mesmerizing corner of TikTok known as #crafttok is now filled with macrame plant hangings. Like photo garland, bendy candles, cloud walls, and sage green coasters, this craft trend will make your space feel so dreamy, and the TikTok tutorials are super easy to follow along with. To get acquainted with this crafting fad, you'll want to watch these macrame plant hanging TikToks that are knot your average DIY tutorials.
The stunning videos are created by talented TikTokers who have mastered this art form and also put their own spins on them. Some videos feature more approachable designs that beginners and experts alike could recreate with just a rope and a hot glue gun, or a wooden ring and a bunch of cord. Other videos go beyond the popular types of macrame knots — square, spiral, and gathering knots — to create Bohemian-looking macrame plant hanging TikToks with added embellishments such as sequins.
After watching these TikToks, you can order supplies to create your own macrame design. You can hang a wooden ring from a hook and begin to separate strands of cord or rope to create your own series of knots. The designs are endless, and the fun begins with these macrame plant hanging TikToks that'll leave you in awe.