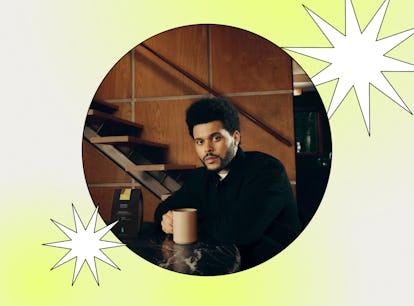 I Tried The Weeknd's Coffee From Blue Bottle & It Was Flavorful
If you're staying up after hours, you need some good caffeine.
We may receive a portion of sales if you purchase a product through a link in this article.
Abel Tesfaye — aka The Weeknd — may be currently trending on Twitter for his role as vampire-like, cult leader Tedros on The Idol, but his most recent collab is more for the early birds than the night owls. For his Samra Origins collection at Blue Bottle, The Weeknd released a new coffee blend inspired by his family. Blue Bottle's Samra Blend Vol.1 was crafted by Tesfaye and his mother, Samra Tesfaye, who also happens to be the collection's namesake. As someone who is intrigued by celebrity coffee orders, I had to try The Weeknd's blend for myself to see if he's as good at java as he is at crafting hits.
The goal of the Samra Blend Vol.1 was to recreate a flavor reminiscent of the coffee served during Buna Tetu, which is a traditional Ethiopian coffee ceremony and a Tesfaye family tradition. That means if you're ever invited over to The Weeknd's home, you might be served coffee that tastes just like Blue Bottle's Samra Blend Vol.1. The coffee enjoyed during Buna Tetu is also served black, so that you can really taste all the flavors. In an attempt to capture those "notes of juicy raspberry and citrus" that are supposed to be present in The Weeknd's coffee, I tried a cup by itself.
The Weeknd's Samra Blend Vol.1 Coffee Review
The first thing I had to do was brew the coffee, which was the hardest part. While I could just throw it in my coffeemaker, I was given a pour over set by Blue Bottle to really bring out flavor in the beans. The $22 bag of Samra Blend Vol.1 only comes as whole bean coffee as well, so I had to grind the beans before placing them in the set, which took some time.
The bag that my beans came in mentioned that The Weeknd's coffee contained tasting notes of raspberry, toffee, and citrus blossom. Usually, it's hard for me to decipher what flavors I'm tasting other than just coffee, but with my first sip, I definitely got those fruity notes. It wasn't too raspberry or citrusy, either. It was just a nice fruity aftertaste. Of course, if you're not paying attention, it'll just taste like black coffee — but a delicious black coffee. Unlike some blends that are bland, the Samra Blend Vol.1 was strong and delicious. I highly recommend trying the pour over method if you're making this at home, especially if you love coffee and want something that'll really wake up your tastebuds in the morning.
There is also supposed to be a caramel flavor in the blend as well, which I didn't really get, but Blue Bottle recommends trying the cold brew method if you want to "amplify the natural sweetness." I might try this method next time to not only see what new flavors come through, but to also enjoy a chill drink on a hot summer day. I actually added some ice and milk to the rest of my pour over coffee after trying it out on its own, and it was light and refreshing. Add it to your own Samra Origins Tumbler and you're ready to hit the beach, run some errands, or head to The Weeknd's After Hours Til Dawn tour this summer.
This article was originally published on