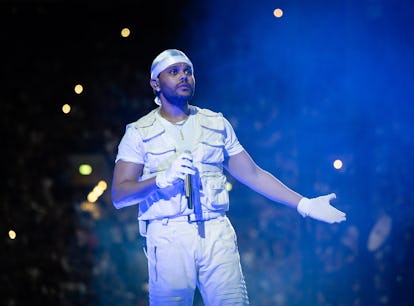 The Weeknd Performed These Decade-Old Hits On Tour & I'm Not OK
Are these performances a final goodbye to his 'The Weeknd' persona?
Samir Hussein/WireImage/Getty Images
For nearly a year, The Weeknd has breathed life into his last two albums (2020's After Hours and 2022's Dawn FM) on his After Hours Til Dawn tour. The stadium excursion exists in a post-apocalyptic pop universe, where The Weeknd serenades the audience with impressive stamina under a large moon. And now, for his current Europe/Latin America leg of shows, a massive Hajime Sorayama-designed robot. While the stage's eerie design of tattered buildings and laser-beamed lights are stunning, the real highlight is the show's ever-changing setlist. As videos from his latest shows appear on social media, many fans noticed The Weeknd's been digging through his old archives.
So far, the singer — also known as Abel Tesfaye — has performed numerous hidden gems from his 2012 Trilogy album. This sonic choice isn't too odd, as he has nods to his other eras in the setlist. However, it's a rather surprising inclusion considering he rarely performs tracks from the decade-old album. This release, a compilation of his three 2011 mixtapes House of Balloons, Thursday, and Echoes of Silence, houses The Weeknd's most heaviest and iconic records. Every track drips with a underground alt-R&B tempo that embraces his melodious hooks with ease, and this swell blend is what earned him the title as king of the fall.
He also surprise performed tunes from 2012's Kiss Land, which shines in a similar legendary sheen to that of Trilogy. These song additions differs from his U.S. setlist, which only borrowed "The Morning," the first half of "Kiss Land" and "House of Balloons." Fans who attended the earlier shows noticed these additions, and wondered what inspired The Weeknd to perform such XO-coded treasures from his earlier releases. According to the singer, the answer's simple: He wants to keep fans on their toes.
"Every night I'm changing up the set — I never do that, it's usually very formulaic — so I'm spicing it up and going into deep, deep, deep cuts and older songs," The Weeknd told Variety on June 20. "I'll rehearse it the day-of, and if the band is down, we'll just throw a mini-set in there."
Meanwhile, others think there's a deeper meaning to this. Many fans believe he's performing these deeper cuts as a tribute to his 'The Weeknd' persona, who he's been slowly retiring in favor of his government name. In May of this year, the singer-actor told W Magazine that he's "ready to close the chapter" of his alter ego after he releases his forthcoming album, which is allegedly the final installment to his After Hours and Dawn FM universe.
His persona, which has musically built a legacy of intriguing hits, is one that listeners have grown attached to, and that can be seen in how awestruck fans are of him performing cuts from Trilogy. Twitter users such as Khaleesi (@TheWeekndFm) speculates he's mourning his prolific stage name with tracks that's made 'The Weeknd' a force, especially since this might be the last time he'll perform as this character.
While I wallow in that heartbreaking thought, check out all the surprise older songs The Weeknd has performed on tour so far.
June 14 (Horsens, DK)
The Weeknd kicked off the nostalgia by performing his 2011 gem, "The Party & The After Party." The track, which first appeared on his House of Balloons EP and later added to Trilogy, sits in a rare class of the singer's longest songs— it's nearly eight minutes long. While that might sound exhausting, its sonically rich and over-indulgent atmosphere pulls you in and oddly leaves you wanting more. Even when he spends the last four minutes of the track spiraling into a sultry fog, there's something about his aching vocals that plagues your brain. It's just Hall of Fame impressive.
The Weeknd continued his House of Balloons streak by performing the EP's title track, which also has a midway switch titled "Glass Table Girls." The gritty number personally sits in the top five greatest releases in his discography, so to hear his mature vocals riding against this classic beat warms my heart.
Honorable mention: The Weeknd also performed his 2021 duet with Swedish House Mafia "Moth To A Flame." While this release is recent, it's seldom the track gets live treatment, so this moment is legendary. Even mother nature's smallest and annoying creatures couldn't believe he was singing this, as seen in the TikTok below.
June 17 (Stockholm, SE)
On the tour's third date, The Weeknd proved that Kiss Land is an upper echelon of an album by performing "Tears In The Rain."
Later that night, The Weeknd dug into his Echoes of Silence bag and performed "Montreal." The uptempo French track is a hidden gem on the 2011 EP, which sonically hears the singer swimming in forlorn heartbreak and toxic sex. You know, his signature beauty and madness.
June 20 (Oslo, NO)
In Norway, The Weeknd performed "Coming Down," another infectious deep cut from House of Balloons.
June 24 (Amsterdam, NL)
As someone who attended the U.S. leg of the tour and only heard "The Morning" and the first half of "Kiss Land" live (which is still legendary), this one hurts my heart. On June 24, The Weeknd performed his biggest XO-gem "High For This."
July 7 (London, UK)
For many XO stans, this is the banger that started it all. During The Weeknd's stop in London, he performed "Wicked Games."
July 11 (Brussels, BE)
This performance is the true definition of a deep cut. During The Weeknd's time in Belgium, he surprise sung his Echoes Of Silence track "D.D." This number is a cover of Michael Jackson's illustrious hit "Dirty Diana," so to hear him revive his rendition speaks to how much he's been observing his older work.
The throwback continues. That same night, he performed "Tell Your Friends" from his 2015 album Beauty Behind The Madness. This moment surprised fans, as The Weeknd has only showed love to this era by performing his three massive singles from the record: "The Hills," "Often," and "Can't Feel My Face." The last time he performed "Tell Your Friends" — a Soul Dog-sampled groove about his self-destructive relationship with fame — was on his 2015 The Madness Fall tour.
This article was originally published on