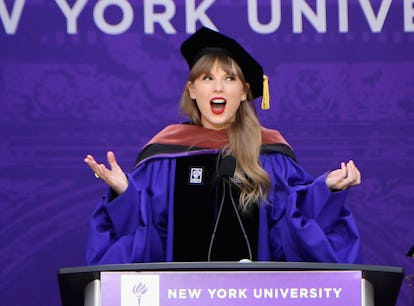 Swifties, Here Are 40 Taylor Swift Lyrics For Posting Grad Pics On IG
ANGELA WEISS/AFP/Getty Images
Taylor Swift became Dr. Swift after receiving an honorary Doctor of Fine Arts degree from New York University in 2022. Along with donning the lavender haze-like gown, Swift also delivered 2022's commencement speech for NYU graduates. As a Grammy-winning singer and songwriter, Swift is a mastermind with words, which is why you need Taylor Swift lyrics for graduation pics you want to post on Insta.
Just like Swift, you may want to post a cute TikTok or Insta Reel of you getting ready for your high school or college graduation. Sharing an OOTD pic of your graduation dress or you wearing your cap and gown is something you may have been dreaming of since freshmen year. Of course, there's also all the selfies you'll snap with your squad while at the ceremony and photos with your fam afterwards that are worthy of the 'Gram. For all those pics, you need plenty of graduation Instagram captions. Instead of something generic, channel your inner Swiftie by using some Taylor Swift lyrics that perfectly capture all the feelings you have about graduating.
Swift's music really resonates with fans, because she knows how to express exactly how you're feeling in any given moment. While her songs may not be about graduation exactly, these 40 Taylor Swift lyrics are relatable to the experience of moving on, growing up, and starting your next chapter. You're not on your own, kid. Dr. Swift is here to help. So, if you're ready to move your tassel and toss your cap in the air, check out Taylor's version of graduation sayings for whatever Swift era you're in.
"Long live the walls we crashed through. I had the time of my life, with you." — "Long Live"
"Saying goodbye is death by a thousand cuts." — "Death By A Thousand Cuts"
"I remember it all too well." — "All Too Well"
"Next chapter." — "The Story of Us"
"When you are young, they assume you know nothing." — "Cardigan"
"Oh, I don't wanna grow up." — "Never Grow Up"
"This is a big world, that was a small town. There in my rear view mirror disappearing now." — "White Horse"
"I realized some bigger dreams of mine." — "Fifteen"
"And you just might find who you're supposed to be." — "Fifteen"
"And you can't spell 'awesome' without 'me.'" — "ME!"
"Long story short, I survived." — "Long Story Short"
"There's a fire inside of you that can't help but shine through." — "Invisible"
"I'm doing better than I ever was." — "Call It What You Want"
"This is the golden age of something good and right and real." — "State of Grace"
"So don't you worry your pretty, little mind. People throw rocks at things that shine." — "Ours"
"I had the time of my life fighting dragons with you." — "Long Live"
"We play dumb but we know exactly what we're doing." — "New Romantics"
"'Cause baby, I could build a castle out of all the bricks they threw at me." — "New Romantics"
"I wanna be defined by the things that I love." — "Daylight"
"Think I'm finally clean." — "Clean"
"It's hard not to find it all a little bittersweet." — "Tim McGraw"
"Look what you made me do!" — "Look What You Made Me Do"
"And darling, it was good never looking down." — "Holy Ground"
"I hope you remember that today is never too late to be brand new." — "Innocent"
"I make the moves up as I go." — "Shake It Off"
"Are we out of the woods yet?" — "Out of the Woods"
"We're happy, free, confused, and lonely at the same time." — "22"
"And I don't know how it gets better than this." — "Fearless"
"We had this big, wide city all to ourselves." — "Holy Ground"
"I think when it's all over it just comes back in flashes, you know?" — "I Knew You Were Trouble"
"I have this thing where I get older but just never wiser." — "Anti-Hero"
"You're on your own, kid. You always have been." — "You're on Your Own, Kid"
"Take the moment and taste it. You've got no reason to be afraid." — "You're on Your Own, Kid"
"I was making my own name." — "Midnight Rain"
"Best believe I'm still bejeweled when I walk in the room. I can still make the whole place shimmer." — "Bejeweled"
"I polish up real nice." — "Bejeweled"
"Ask me why so many fade, but I'm still here." — "Karma"
"I laid the groundwork and then, just like clockwork, the dominoes cascaded in a line." — "Mastermind"
"'Cause we survived the Great War." — "The Great War"
"Goodbye, goodbye, goodbye. You were bigger than the whole sky. You were more than just a short time." — "Bigger Than the Whole Sky"
This article was originally published on