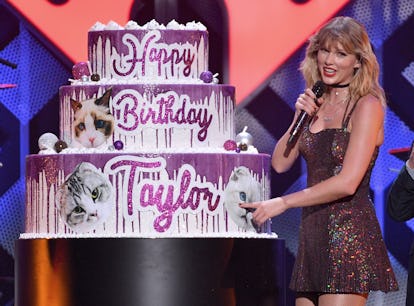 76 Taylor Swift Lyrics For Birthday Party Captions And Dancing In Your Party Dress
"We are too busy dancing to get knocked off our feet."
Dia Dipasupil/Getty Images Entertainment/Getty Images
It seems like it's almost mandatory for anyone turning 22 to post their birthday pic with the caption "I'm feeling 22" on Instagram. "22" by Taylor Swift has become a bit of a birthday party anthem, but those aren't the only Taylor Swift lyrics for birthday party captions you can use. As the award-winning lyricist she is, Swift has tons of birthday-worthy song lyrics for any age and any party you're planning.
In fact, not every birthday is a happy one. Swift's "The Moment I Knew" is all about having sad girl vibes during your birthday party, because the one person you wanted to be there didn't show up. It's your party and you can cry if you want to, but only after you post a cute selfie on Insta with the right Taylor Swift lyrics as your caption. Plus, the Oct. 21 release of her latest album, Midnights, dropped a few sparkly one-liners that are perfect for any kind of birthday you're having, happy or sad.
Swift has such a way with words that she even captures how fun it is to spin around in your birthday party dress and sip on some champagne cocktails with your besties. This list covers all the bases, whether you're looking for Taylor Swift lyrics about alcohol or Taylor Swift lyrics about your party dress. Even if you're just spending your big day dancing around your room to your fave songs, there are these 76 Taylor Swift lyrics that you can use for relatable birthday party captions.
This article was originally published on