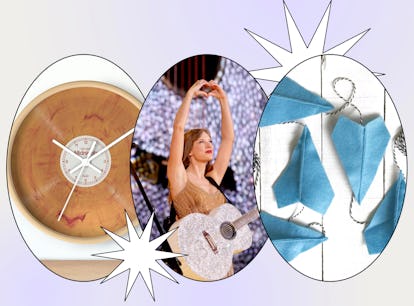 Shop Home Decor Inspired By Your Fave Taylor Swift Era
A Swiftie-inspired spring refresh to make your whole home shimmer!
Etsy/John Shearer/Getty Images Entertainment/Getty Images/Elite Daily
We may receive a portion of sales if you purchase a product through a link in this article.
Whether you managed to snag tickets to the tour or not, it's possible to immerse yourself into each one of Taylor Swift's eras at home. When just listening to Midnights or Speak Now isn't enough, add some Taylor Swift eras home decor to places where you have blank space. Each one of her eras has its own aesthetic, vibe, and color palette, which makes it easy to differentiate between them. By adding a few throw pillows or statement lamps here and there, you can easily channel any era's vibes in a room of your house.
One of Swift's most iconic eras is her reputation era, which is when she really took a turn and ditched the "old Taylor" for a new darker and edgier look. Instead of glitter and sparkles, she went heavy on the snakes and black 'fits. That era might fit into the dark academia aesthetic you've been wanting to see more of in your space. On the flip side, cottagecore is another aesthetic that's become synonymous with Swift and her folklore album. It's why so many people were donning cardigans and wanting to escape into the woods in 2020, and it's an easy era to be inspired by when shopping home decor.
There's also the flirty and pastel Lover era, the young and country debut era, and autumnal era that was Red (Taylor's Version). Whatever era wants to "speak now" to you, you'll be able to find some cute home decor to match from stores like HomeGoods, JOANN, Target, and more.
Taylor Swift Era
The Taylor Swift debut era was when Swift was full-on country. With songs like "Teardrops On My Guitar" and "Tim McGraw," she wrote about young love and innocence. To embrace the same vibes of riding shotgun with your hair undone, you'll want to add some of that country and farmhouse aesthetic into your space with wooden furniture and lots of faux plants. If you're going off colors alone, Taylor Swift has been assigned the color green by most Swifties and the bejeweled bracelet. Anything that is green like a teal wall clock or green plaid throw pillow will pair well with a debut-themed room.
Fearless (Taylor's Version) Era
Swift's Fearless era is when she really catapulted to fame with the song "Love Story." At the time, her idea of love and relationships really centered around fairy tales and romance. Think of Romeo and Juliet and ornate designs when shopping for your Fearless home decor, while also keeping in mind that yellow, gold, and glitter are all a part of the era's color palette. Something like a golden bowl with hearts is perfect for your dresser, or create an accent wall with golden branches and iron brackets.
Speak Now Era
Drop everything now and give your home a spring refresh. An enchanting era like Speak Now is representative of never wanting to grow up. While it has the same romantic vibe of Fearless, it's a little more mature and grounded in reality. The color palette is also darker with shades of purple and magenta, so you might want to fill your room with lavender faux flowers and violet velvet curtains. When it's time to go back to December, you'll be cozy at home with some candles and comfy throw pillows as well.
Red (Taylor's Version) Era
Red is known as Swift's "only true breakup album," but it's so much more than lost scarves and scream-singing "We Are Never Ever Getting Back Together." Instead, the Red era is about growth and liberation. When looking for some home decor, get inspired by the feeling of fall and dancing like you're 22. It's pretty obvious that the color palette you're looking for is red like Swift's signature lip color, but mix it up with some autumnal shades as well. Throw in some heart-shaped decor like her shades in the "22" music video with an "All Too Well" rug or candle holder.
1989 Era
An era that will never go out of style is Swift's 1989 era. When you think of 1989, you may think of New York City, Taylor's squad, and shaking it off. It's fun, free, and full of screaming watercolor. The album cover is literally a polaroid picture, so you'll want to snap a few selfies of you and your friends to hang up on the wall with string lights. Stay within the blue and lavender color palette when picking out throw pillows and desk decor for a home that's beyond your wildest dreams.
Reputation Era
The reputation era really stands out as a major shift in Swift's career. The "old Taylor" is gone, and in her place is a darker version that doesn't care what people think. Anyone planning to channel reputation in their home decor should think of bold and black colors. Snakes also became a mascot of the era, so if you're ready for it, you might want to consider an accent reputation wall with snakeskin wallpaper. A snake rug or black throw pillows would also look gorgeous.
Lover Era
The Lover era was like a 180 from Swift's reputation era, and featured hearts and pastel colors. For a room where you can calm down and live in your Lover era, add some pink accents and heart-shaped decor. You could even make your home smell lovely by picking up some sweet-scented candles. The entire rainbow is your color palette for this one, so think pastel curtains and garland as well.
Folklore Era
The folklore era already comes with its own aesthetic — cottagecore. You may be familiar with cottagecore and the way it embraces rural life, so it'll be easy to spot some folklore-era home decor while shopping. Pick out a throw that reminds you of a cozy cardigan and add some greenery to your wall with moss art. If "mirrorball" is your fave song, you could even get a disco ball planter for your plant babies. Inspired by the album cover, add some black and white tree art to your walls as well.
Evermore Era
Toast to your champagne problems and embrace evermore at home. This era is a sister to folklore, so it looks similar. However, evermore has more color to it. To differentiate your evermore decor, look for brown plaid patterns in your rugs and throws. Since Swift has a moss-covered piano and willow tree as part of her evermore set in the Eras Tour, you could also incorporate moss and trees into your design choices as well.
Midnights Era
Swift is currently in her Midnights era, which has a moody, '70s-inspired feel to it. Shop decor inspired by the "Anti-Hero" music video, or look for items that remind you of your favorite songs. Both "Bejeweled" and "Lavender Haze" are vibrant singles that could influence your color palette. There's also the midnight theme that evokes stars and clocks if that's more your vibe.