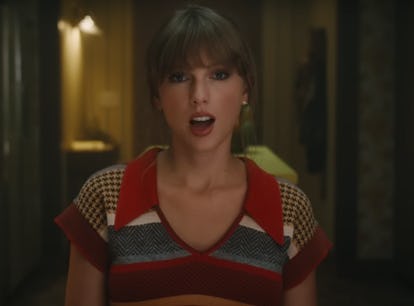 Taylor Swift "Anti-Hero" Music Video-Inspired Home Decor Pieces
Enter your Midnights era in style.
By now, Swifties have watched Taylor Swift's "Anti-Hero" music video a few times. You kind of have to re-watch just to see all the Taylor Swift easter eggs hidden throughout. In addition to all the nods to her previous eras, you may have also noticed the Taylor Swift "Anti-Hero" music video decor and thought to yourself, "I need that." If you're too lazy to search the web yourself, though, don't worry — you're not the problem. Instead, just shop these Taylor Swift "Anti-Hero" music video-inspired home decor items that have been assembled just for you.
The '70s-inspired home decor must be making a comeback, because you also feel the need to fill your space with teal vases and retro floral wallpaper. While you may not be able to find exact replicas of everything in the "Anti-Hero" house that Swift inhabits, you can find plenty of home decor items inspired by the music video.
From floral wallpaper to the actual plates used in the "Anti-Hero" music video, shop around for what's calling to you and give your house the makeover it deserves so you're fully ready to enter your Midnights era as well.
We may receive a portion of sales if you purchase a product through a link in this article.