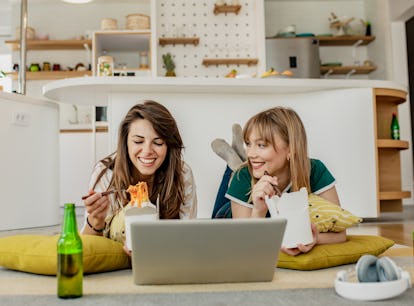 38 Captions For Takeout Food And Having A Cozy Night In With Your SO
blackCAT/E+/Getty Images
On a busy weeknight or a casual weekend, the last thing you and your SO want to do is go out to dinner. You would much rather cuddle up on the couch with your favorite to-go ramen, turn on a new episode of Loki on Disney+, and catch up without worrying about having to give up your table. Plus, you can still share your epic spread (and your date) on Instagram or TikTok. If you want to capture one of these special date nights on social media, one of these captions for takeout food and having a cozy night in with bae will help you summarize the moment.
Whether you choose to grab takeout from a neighborhood spot or get delivery for a special occasion, these captions are the perfect accompaniment to the selfies you'll snap with your SO. Those candid pictures are #necessary additions to your feed, as they'll give you a chance to reminisce later on on the more low-key date nights you've had and loved with the perfect accompanying food pun or dad joke. They also serve up major inspo for your followers on how to have a relaxing night in with their partner if they'd rather not toss on a dressy look and head out on the town, or where they can order food from if they're also based in your city or town.
To get started, you'll first need to do the hard part of deciding what type of food you and your SO are hoping to enjoy, whether it be a burger, a plate of penne alla vodka, or a colorful salad. Then, set up your table with candles, a stack of napkins, and a speaker if you really want to serve up some romantic vibes. Snap a memorable photo, then check out these captions for takeout food to top off the experience and capture the lovely night you had with your SO for social media.
"You stole a pizza my heart."
"Burgers, fries, and my perfect guy."
"We're in a serious relation-chip."
"First, we'll eat pizza. Then, we'll cuddle."
"I love these nights in with you pho real."
"Hey, babe. Can you pass the chips?"
"10/10 would recommend staying in and ordering takeout with bae."
"Chipotle should sponsor us at this point."
"Pasta la vita, baby."
"Saturdays are for takeout food and sweatpants."
"Lime yours until the end of time."
"So grateful for you and good food."
"POV: you're the food we just ordered in."
"Say cheese pizza."
"Lettuce pick out a movie for tonight."
"We decided it was an ordering in kind of night."
"Everyone say, 'Thank you, Uber Eats.'"
"I'll eat takeout food with you any day."
"Take me out."
"All dressed up to eat takeout in the living room."
"It takes two to decide where to order takeout food from."
"Big sushi fans."
"One at-home date night coming right up!"
"You're a snack, but I was really hungry."
"Sorry for the things I said when I was hangry."
"Give them something to taco 'bout."
"Lots of food was ordered in the making of this date night."
"Kitchen table for two, please."
"No reservation needed."
"How to: have the tastiest date night at home."
"Until further notice, I'll be snuggling and snacking."
"You pick the restaurant, I'll pick the movie."
"I love it when you talk pizza to me."
"Takeout regulars."
"You had me at vegan takeout."
"Eat dinner with us."
"Pics or the tastiest date night ever didn't happen."
"Love you to the drive-thru and back."