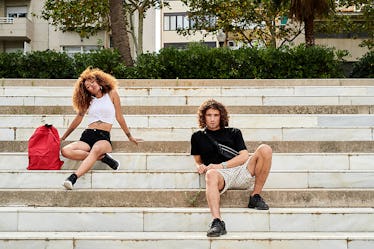 If You Wish You Spent More Time With Your Partner, This Is For You
Five questions experts say you should consider.
Does it ever feel like you and your partner are not spending enough time together in your relationship? Maybe you both have crazy work schedules, or maybe you live on opposite sides of a city. Or maybe (maybe!) you're just feeling like, "I want to spend more time with my boyfriend then he does" — which is definitely not a fun way to feel. Whatever the case, if it seems like your S.O. has been physically or emotionally distant lately, it's probably time to have a chat.
I don't know about you, but when I start dating someone new, I want to devote every possible moment to getting to know them, learning all the little things about this fun, new person in my life. Once the honeymoon phase is over and the relationship develops into something more serious, though, you and your partner have to figure out what you consider to be the right amount of time spent together. Which, admittedly, can be a tricky tightrope to walk.
If you're not really sure what constitutes "enough" time spent with your partner (or if you're afraid you might not be on the same page about what that means), we've brought in some experts to help you crack the code. Enter Brianna Rader, relationship educator and founder of sex and relationships app Juicebox; life coach Nina Rubin; and dating coach and host of The Dates & Mates Podcast Damona Hoffman, here to share five questions to ask if you're currently thinking, "Ugh, my boyfriend doesn't spend quality time with me."
Oh, and if you're wondering how to have a difficult conversation with your partner, sex and relationships therapist Dr. Lauren Fogel Mersy, PsyD, LP, has some tips to help you navigate that chat (without turning it into a massive fight).
Experts:
Brianna Rader, relationship educator and founder of sex and relationships app Juicebox
Nina Rubin, life coach
Dr. Lauren Fogel Mersy, PsyD, LP, sex and relationships therapist
Damona Hoffman, dating coach and host of The Dates & Mates Podcast
This article was originally published on