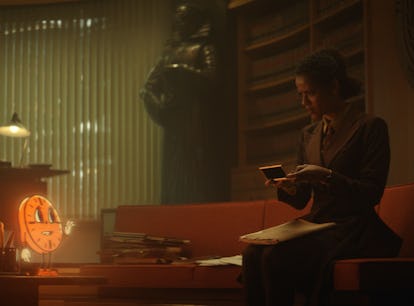 Here Are All The Big Loki Season 2 Theories So Far
Marvel Studios
Fans were thrilled when Marvel announced Loki is getting a second season, and not just because the series was the first one in the streamer's stable of MCU shows to be granted another installment. Unlike WandaVision or The Falcon and the Winter Soldier, fans won't have to wait for big-screen films to find out what happens next in Loki. Instead, Loki will stick to the small screen for brand-new adventures. But with so many loose ends left in the show's Season 1 finale, there are also tons of questions left to be answered. These Loki Season 2 theories cover some of the most significant points of speculation.
Warning: Spoilers for the finale of Loki Season 1 follow. With Jonathan Majors' arrival as He Who Remains, Loki finally made good on the MCU's unspoken promise that significant figures from future big screen projects will turn up on Disney+. A variant of Kang the Conqueror, this "Kang Who Remains," if you will, had conquered the timeline and was holding it hostage to a single stream of events. This way, he was preventing a more bloodthirsty version of himself from running amok.
Unfortunately, Sylvie didn't see it that way. As far as she was concerned, his benevolent dictator act was just as cruel and stifling as any that existed in a universe where free will and free multiverses could exist. So she killed him.
But it doesn't sound like that was the best course of action. As he died, he told Sylvie, "See you soon," and as Loki discovered back at the TVA, he wasn't kidding. After this shift in the timeline, a new version of Kang was running the joint, and he didn't hide behind Time-Keepers.
So what now? Let's dive into the main theories.
All episodes of Loki Season 1 are now streaming on Disney+.