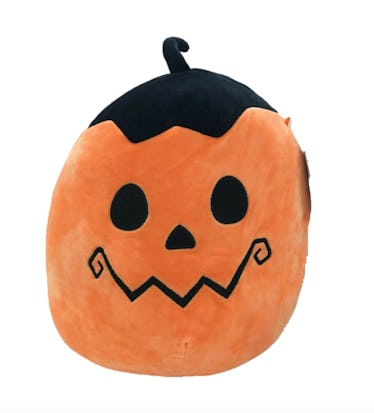 TikTokers Are Making Their Own Squishmallow Costumes
Nothing but the best for my #SquishSquad.
Now that spooky season is finally here, it's time to bust out the plastic pumpkins, gruesome ghouls, and festive Squishmallows. If you're a certified member of the #SquishSquad, chances are you've been thinking about dressing up your Squishmallows for Halloween — and TikTok has some great Squishmallow costumes that you can both buy or DIY. If you want some adorable inspo, check out these not-so-scary Squishmallow costume ideas on TikTok.
It's hard to believe that your too-cute Squishmallow could become even cuter, but it's totally possible with the right spooky disguise, as many TikTokers are sharing under the #squishmallowoutfit tag. Plus, there are so many great Halloween costume ideas that you can DIY by following a TikToker's directions or buying the patterns on Etsy to make your own. If you sew or crochet, there are tons of TikTokers showing off their homemade Squishmallow Halloween costumes. There's everything from adorable garden mushrooms to adorable hats that transform any Squish into frogs, bumblebees, and more.
Even if you aren't a crafter, you can still scroll through TikTok to discover fun Halloween ideas for your Squishmallows that require minimal effort. Check out these super adorable costume ideas to help your favorite Squishes get spooky.