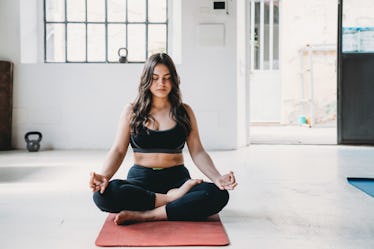 This Yoga Flow For The Spring Equinox Is All About Embracing Balance
Steady on the inside, steady on the outside.
FilippoBacci/E+/Getty Images
Even if it doesn't feel like it where you are, spring really is right around the corner. March 20 marks the start of the spring equinox and the first official day of the season in the Northern Hemisphere, which is something we can all celebrate. In the coming days, all the snow will finally begin to melt (hopefully sooner rather than later), making way for blooming flowers and natural growth — both in nature and in yourself. A great way to welcome the change in seasons is to practice a few yoga poses for the spring equinox, so your body can get in touch with the rhythms and cycles of the natural world, and you can feel inspired to make sustainable changes wherever you need to in your life.
Spiritually, the spring equinox (otherwise known as the vernal equinox) is such an incredible opportunity to open your heart and embrace the change brewing in every crevice of nature. During the winter season, the earth sort of falls to a hushed silence, and there's a heaviness in the air that tends to make us all feel a little, you know, blah. But when spring rolls around, everything is restored anew, and growth is welcomed in every aspect.
Symbolically, during the wintertime, your shadow is elongated due to the harsh and frigid lighting. But in the spring, it softens and allows for symmetry and balance, which you can use to inspire your spring yoga flow for the spring equinox.
Use this standing yoga sequence for the spring equinox as a clean slate and an opportunity to start over on the first day of spring. As you flow from asana to asana, you'll feel grounded and stable, yet gloriously open to everything that this brand new season has to offer.
This article was originally published on