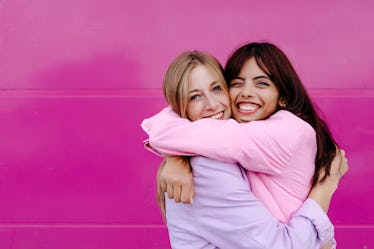 These TikTok Ideas For Sorority Big Little Reveals Are Too Cute
Pull out all the stops for your pledge family.
Westend61/Westend61/Getty Images
Joining a sorority can feel like one exciting reveal after another. It starts with Bid Day when you find out which house you'll be joining, and continues with the Big Little reveal when you're finally given your pledge family. As a Big, you're there to mentor your Little and welcome them in with arms wide open, which is why you may need some TikTok ideas for sorority Big Little reveals to really show your new sis how much you care.
For some sororities, the Big Little reveal is a week-long event. Leading up to the big day, surprise your sis with various gift baskets filled with their fave candy, a cute tote bag, and even some tees with their letters on them. On the final day, you'll want to have a matching outfit planned so you can immediately take some family photos together after you've revealed yourself. Since everyone is trying to be as creative and unique as possible, it can be hard coming up with fresh ideas on your own.
Luckily, TikTok has so many Big Little reveal videos filled with ideas that'll inspire you. There are even some adorable ideas for the exact moment you surprise your sis and reveal which Big they're getting. Everything you need to prepare is right here with this list of eight Big Little reveals on TikTok.