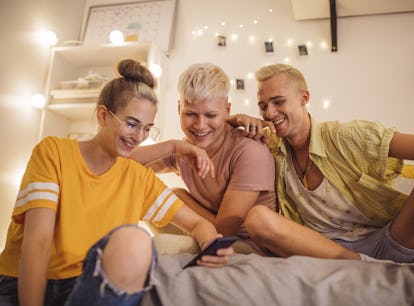 These POV TikTok Ideas Were Made For Major Dorm Room Reveals
It's the *glow-up* for me.
svetikd/E+/Getty Images
College move-in day is always full of excitement. Before you meet your new roomies for the first time and check out all the welcome week events on campus, however, you'll want to get settled in your dorm room and make it your own. After all, this will be your home away from home for the next year, so you've got to make it as cozy as possible. Before you start unpacking and decorating, though, you'll want to make sure you capture the "before" and "after" to share it with your besties. If you're not sure where to start, check out these POV TikTok ideas for a dorm room reveal video to inspire your own.
Every dorm room starts out as a blank canvas you get to make over. You may have plans to string up some fairy lights and put a collage wall together over your bed, and let's not forget the super cute comforter you picked out from the store that perfectly matches your aesthetic. While you'll love the finished product when everything is finally in place, it'll be all the more gratifying if you capture all of your hard work moving in and decorating with a "before" and "after" point of view TikTok video.
All it takes is the right sound, transition, and footage of your empty dorm transforming to your fully furnished living space, and you've got something that will really wow your followers. If you're not sure where to start, just check out these seven dorm room reveal TikTok ideas for point of view inspiration.