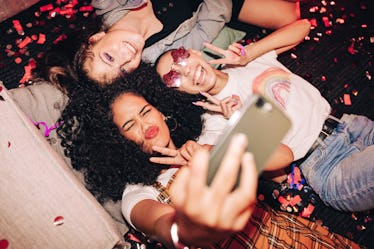 60 Sassy Captions For Instagram Pics When You're Feelin' Yourself
Shutterstock
Sometimes you take a selfie that's so fierce, you can't help but flex it on the 'Gram. There's nothing wrong with feeling yourself after you've worked hard to cultivate indestructible self-love. You're proud of the individual you are, and it reflects in your unique style and the way you carry yourself in the world. There's nothing wrong with having a princess complex, especially if the crown fits. Caption your next Instagram "slay" with a fun and sassy caption for Instagram that perfectly describes your baddie era.
A proper "serve" can be many different things; You may want to show off your it-girl outfit in a show-stopping 'fit pic, impress your followers with a photo of a cool makeup look you're trying out, or drop a simple selfie that displays your natural beauty that's anything but basic. Maybe you're looking to stunt on your haters or an ex-flame by showing them you're just fine on your own and will never stop becoming more fabulous with time. One thing's for sure, your post will be giving dream-girl.
Confidence is all in your attitude — and it's okay to be humble with a hint of Kanye. Strut your stuff and live your best life because you're the queen of your own world. The next time you're ready to post a Louvre-worthy portrait or pose on Instagram, remember these sassy captions that express your #Sliving, savage mood, because you're glowing different these days.
"Queen of my own world."
"Eat, pray, slay."
"#Sliving"
"Darling, I'm a nightmare dressed like a daydream." — Taylor Swift, "Blank Space"
"You just wanna be me, I'm a hot girl, pop girl, rich girl." — Charli XCX, "Hot Girl (Bodies Bodies Bodies)"
"I'm sorry, the old [your name] can't come to the phone right now..." — Taylor Swift, "Look What You Made Me Do"
"I do this thing called whatever I want."
"I heard you're a player. Nice to meet you, I'm the coach."
"Didn't they tell you that I was a savage?" – Rihanna, "Needed Me"
"I see it, I like it, I want it, I got it." – Ariana Grande, "7 Rings"
"I know looks aren't everything, but I have them just in case."
"Humble, with a hint of Kanye."
"*Hair flip*"
"Too glam to give a damn."
"Too sexy for this world." – Drake, "Too Sexy"
"Y'all need to get into my drip like y'all need water." – Doja Cat, "Get Into It (Yuh)"
"I twirl on my haters." – Beyonce, "Formation"
"Be yourself – because not just anyone can be me."
"I'm a gangsta in a dress." – Cardi B, "I Do"
"You were my cup of tea but I drink champagne now."
"You say I'm turning evil, I'll say I'm finally pure." – Charli XCX, "Used To Know Me"
"A slay a day keeps the basics away."
"Treat me like a joke and I'll leave you like it's funny."
"I been looking good, I been feeling nice, working on my aura, cleaning up, working overtime, you been getting boring so skrrt-skrrt." – Sza, "Love Galore (Alt Version)"
"All sun no shade."
"I'm a hot girl but I stay icey."
"If I ever let my head down, I'm just admiring my shoes."
"How you don't like me but tryna do everything like me? That is what gets me." – Nicki Minaj, "We Go Up"
"You're welcome."
"They say good things are worth the wait. That's why I'm always late."
"Sending my selfie to NASA 'cause I'm the star."
"Sorry, h*es hate me 'cause I'm the it girl, I ain't never asked to be the sh*t, girl." – Megan Thee Stallion, "Megan's Piano"
"Savage, not average."
"I was sent from heaven to raise hell."
"Too blessed to be stressed."
"No pressure, no diamonds."
"Princess complex."
"I'm Mrs. Extra! Extra! This just in." — Britney Spears, "Piece of Me"
"I got my feet on the ground and I don't go to sleep to dream." – Fiona Apple, "Sleep to Dream"
"Lucky you!"
"I never lose. Either I win or I learn."
"Felt cute, might delete later."
"Bad to the bone."
"Miss me?"
"If I cut you off, you probably handed me the scissors."
"I'm glowing different these days."
"Throw me to the wolves and I'll come back leading the pack."
"You have to be odd to be number one."
"Throwing s-ass."
"Before I post a pic, should I flex? Yeah, I should." – Megan Thee Stallion, "Money Good"
"You must not know 'bout me." – Beyonce, "Irreplaceable"
"In your dreams."
"I'm okay with being the villain in someone else's story if that means I was the hero in mine."
"No filter, never needed one."
"The only way you'll win is if I quit."
"This face card never declines."
"Dressing the part."
"Out of your league."
"I'm Prada, you're na-da."
"Know your worth and add tax."