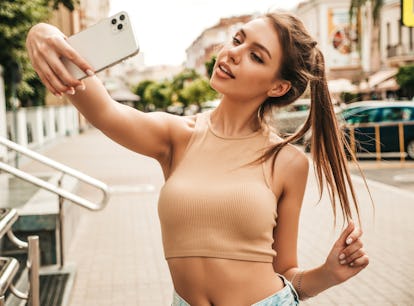 These Influencer-Loved Poses For 2022 Will Keep Your Insta On Trend
Everyone from Charli D'Amelio to Kaia Gerber is hopping on the bandwagon.
Shutterstock
Look, we all love to come across a cute, close-up selfie when we're scrolling through Instagram. While there's nothing wrong with keeping it simple, there are so many Insta poses out there that can add a little more texture to your grid by switching things up. In fact, some of the biggest Instagram influencers have already perfected these Instagram poses that are going viral in 2022.
It seems like people are finding more and more ways to show off both their outfits and their wanderlust-worthy backdrops on Instagram. Each one of these viral Instagram poses finds a unique way to show what's on you and going on around you. Take the squat pose, for example. Pretty much everyone is doing it, and why wouldn't they? The resulting photos display your entire outfit, including your shoes, and it's super flattering.
And then there are the Instagram poses that take a wider view of where you are in the world. From natural settings to art museums and parking garages, these poses for Instagram also help you find a backdrop that vibes with your #aesthetic. And the best part? Most of these trendy Instagram poses only require a single prop, if any at all.
Ready to find the next pose you'll grace your Instagram feed with? Scroll through these trendy Instagram poses and take your grid to the next level.