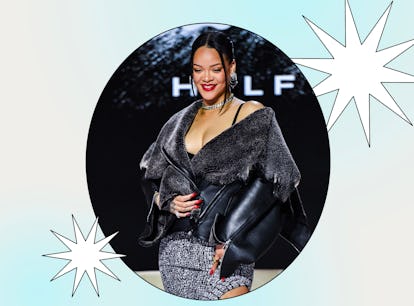 10 Exercises Inspired By Rihanna's Workout Routine
Following in RiRi's steps is real "work, work, work."
Anthony Behar - PA Images/PA Images/Getty Images
Quick poll: Who's ready for Rihanna's epic return to the stage at 2023's Super Bowl halftime show? It's hard not be excited. Even the stars agree this is Rihanna's time to shine, but it's been a while since she was releasing bangers every other month. Chances are Bad Girl RiRi is planning to bring it to her performance with lots of dance moves, and Rihanna's workout routine is definitely helping her get Super Bowl Sunday-ready.
Unsurprisingly, the multi-hyphenate likes to switch things up. Lagree founder Sebastien Lagree told Glamour South Africa in 2020, Rihanna "has been a long-time Lagree client," while celebrity trainer Jamie Granger said RiRi likes to spice things up by doing "everything from power lifting to plyometrics."
While Rihanna seems to enjoy trying new fitness regimens, Lagree seems to be her go-to workout routine, and, according to Dede Lagree, her chef originally got her into it. If you're new to this form of exercise, Lagree is often compared to Pilates. However, the two are slightly different. Sebastien says that Lagree is a low impact and high intensity workout, while Pilates is low impact and low intensity. There are also slight differences in the machines used for Lagree versus Pilates, such as Lagree's Supra, which Sebastien Lagree says "helped [Rihanna] reach and achieve her fitness goals."
To perform a Lagree workout at home, it does help to have a Lagree machine. However, there are Lagree exercises you can do without a machine at home that are very similar to Rihanna's Lagree workout.