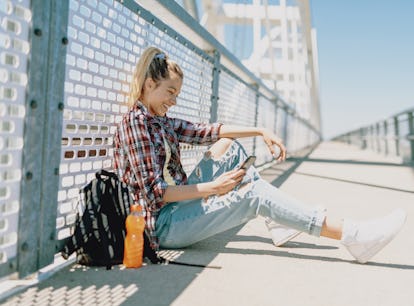 8 POV TikTok Ideas For Going Back To School That'll Make You LOL
These will get you an automatic A+.
Drazen_/E+/Getty Images
School is back in session. After a year of virtual classes, a lot of students are preparing to head back to school IRL this semester. Chances are you can't wait to be reunited with your crew after your summer vacay and show off all the new 'fits you just bought. After you've gathered all your supplies and shared your OOTD with your BFFs, you'll want to round up some POV TikTok ideas for back-to-school videos you can make your first week.
Sometimes it feels like your TikTok FYP is reading your mind. Now that back-to-school season here, you've probably seen a few POV TikToks that have made you LOL with how accurate they are. They've covered all the bases from shopping for new clothes and arriving on the first day of class to doing a reveal for your dorm room. At this point, you've potentially seen so many relatable TikToks that you're thinking it's time for you to make a few of your own.
Along with being hilarious, back-to-school POV TikTok videos are so great because they become the perfect time capsules. At the end of the school year, you can look back to see where you began in a super cute way. So, take some inspiration from these POV TikTok videos and make your own memories for everyone to see.