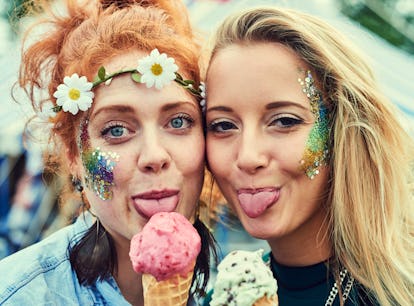 Photo Dump Themes For Making Your Next Instagram Post So Inspired
Everything is grid-worthy now.
Flashpop/DigitalVision/Getty Images
Thanks to the popularity of photo dumps, you no longer have to carefully curate your most Insta-worthy photos and leave the less grid-worthy snaps to take up valuable phone storage. The ability to share up to 10 photos at a time is a total game-changer, and the feature has definitely led to people posting more candid and authentic moments on Instagram. However, if you're someone who still wants to keep a curated feel when sharing your pics, you'll want to check out one of these photo dump themes for your next Instagram post.
After all, photo dumps can sometimes feel like just a random assortment of snaps and selfies from your phones. If you use a photo dump theme, your post tells a story while also allowing you to share the content you wouldn't necessarily post alone. Some people even treat Instagram dumps as photo albums for things like vacays and or an entire weekend spent with your besties. They can also be used to store collections of things, like your favorite outfits and memes, all in one place. Depending on what memories you want to share, you can figure out what direction you want to go in for your next Instagram photo dump. However, if you're looking for inspiration on your next post, here are 11 photo dump themes you can follow.