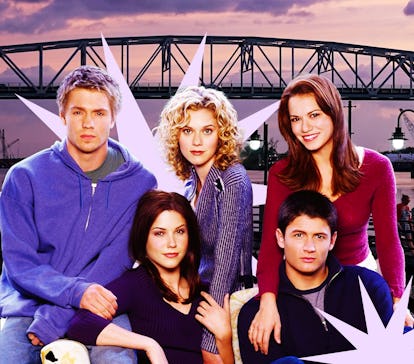 How I Spent 13 Hours In (One) Tree Hill
Alexa, play Gavin DeGraw.
Elite Daily, WB, Shutterstock
Twenty years ago in 2003, I got to experience the world of Tree Hill for the first time by watching One Tree Hill debut on cable TV. I was 10 years old when I fell in love with Lucas Scott, dreamed about being as cool and confident as Brooke Davis, and wondered what the hell Nathan and Haley were doing getting married at 17. So, when I recently got to spend a weekend visiting the One Tree Hill filming locations in the real-life Tree Hill, aka Wilmington, North Carolina, I was ready to cue the nostalgia — and queue up some Gavin DeGraw, of course.
Wilmington, or "Wilmywood," is kind of like a mini Hollywood in the South. It's home to the iconic Screen Gems Studios, where major blockbusters like Iron Man 3 were filmed, as well as countless series including The Summer I Turned Pretty and Dawson's Creek. Wilmington is basically the backdrop to the entire nine seasons of One Tree Hill, and the idyllic beach town has become a popular tourist destination for fans who want to scope out the Naley Bench, Tric, the bar where Lucas and Brooke had their first date (and where Lucas met Nicki), and so much more. Here's everything I did on my One Tree Hill-themed itinerary.
May 3, 2023
6 p.m.: I arrived in Wilmington from North Bern, North Carolina. Of course, the first thing I did was visit the iconic One Tree Hill opening credits bridge. I mean, the mere thought of the bridge instantly takes me back to a nostalgic early-aughts time when Lucas Scott was number one in my heart. You have to pose with a basketball if you're going to snap photos here, and you also have to play Gavin DeGraw as you do it. I don't make the rules.
7 p.m.: After the emotional experience of seeing the bridge, I checked into the Dreamer's by DW hotel, which is super convenient from downtown Wilmington because everything is walkable from the B&B. I freshened up before heading out to my favorite One Tree Hill filming location: the bar where Lucas and Brooke have their first date.
9:30-11 p.m.: I had zero chill about how excited I was to see Blue Post Billiards. I had just rewatched the series and could picture Brooke and Lucas flashing their fake IDs to the bartenders here. I recognized the bar from the scenes instantly, due to the exposed brick walls and twinkle lights. I had to play some pool to channel my inner Brooke, and I even stopped to hang out in the hallway between the main bar and the back pool hall room where Brooke and Lucas had their first makeout. This is also the bar where Lucas met Jake's troublemaker ex-girlfriend Nicki, and it played host to so many other scenes during the series. Being there, I felt like I was a part of the show. But after a few tequila sodas, it was time to head back to the B&B.
May 4, 2023
9 a.m.: I grabbed the complimentary breakfast at my hotel, and then stopped at Dram Yard, which is attached to the Arrive Hotel, for a quick coffee. I was meeting a filming locations walking tour guide after this, so I had to get energized before seeing the park where Peyton and Lucas got married, the cemetery from the "dare night" episode where Felix and Brooke jumped into an empty grave, and the Naley bench.
I had signed up to go on a walking tour with Haunted Wilmington, which lets you choose between a ghost tour and the TV/movie-themed option that I did. It included more filming locations than just OTH ones, but you can also download your own self-guided OTH walking tour on the Wilmington tourism website.
10 a.m.: Some of the iconic filming locations I saw on the walking tour included both the exterior and interior of Karen's Cafe. When I stopped by the building used for the exterior shots of Karen's Cafe, I instantly recognized it. It was also the same exterior shots used for Clothes Over Bros, after Brooke took over the location in One Tree Hill Season 5. I would definitely tout this as a must-see for fans, since you can definitely recognize so many scenes from this spot. This spot is currently home to a store called Outdoor Equipped, and it's located at 272 N. Front Street, the main bustling area of downtown Wilmington.
10:30 a.m.: The interior of Karen's Cafe is a bit more difficult to recognize, as it's completely revamped into Port City Java, a coffee shop. Plus, the look of Karen's Cafe was built into the space and then removed once filming was over. I stopped by anyway because hey, when in Wilmington, but this is definitely something you can skip if you're in a hurry since it doesn't look like the show anymore. Pick up a coffee or pastry here and continue on your tour.
11 a.m.: If you're like me, you have a personal vendetta against Season 2, episode 2 titled "The Lonesome Road," where they make it seem like Nathan is going to hook up with Haley's sister Taylor. That's the ultimate sister code that can never be broken. I stopped by the bar where this episode was filmed. It's called the Swinging Donkey in the show, but IRL, it's a bar called Hell's Kitchen that's pretty much your typical dive bar. I walked in during the day so it was kind of empty, though it seems like a great spot to unwind if you're looking for another chill bar option.
11:30 a.m.: I was so excited to visit the Naley Bench, since it's so iconic and is home to one of the first scenes where Nathan and Haley began to fall in love. I may or may not have recruited a guy to play the part of Nathan while I was Haley for these photos. Please note the bracelet I used as a prop. "Don't say I never gave you anything!"
12 p.m.: After the experience that was seeing the Naley Bench, I stopped to have lunch at Elijah's. It has a delicious seafood-inspired menu (I ordered the fried shrimp) and stunning views of the river on the back patio, which is where I chose to sit to soak in the sun. Fun fact: Elijah's was where One Tree Hill had its series wrap party, so Chad Michael Murray has definitely walked these halls *Swoon.*
1 p.m.-1:30 p.m.: I had spent a lot of time on TikTok checking out where to buy the best One Tree Hill merch, so I had some places in mind for a merch haul. Black Cat Shoppe had the iconic Keith Scott Body Shop hoodie (apparently with the original print that was used in the show) and a few T-shirt options. However, I found Krazy Mike's to have a slightly better T-shirt selection, and I picked up a Scott jersey T-shirt.
May 5, 2023:
11:30 a.m.: Before catching my flight back to NYC, I led my friends to a seemingly abandoned brick building warehouse space in Wilmington that I recognized instantly as the iconic nightclub Tric. You can plan your visit online to get tickets to tour the space, but we didn't plan that far ahead. Instead, we hovered around taking photos outside before deciding to knock. This is a photo of me laughing because my friends seriously had no clue what we were doing.
12 p.m.: Finally, an employee opened the door and agreed to let us come in for a quick, unscheduled tour. We paid $10 each to get in, which will go to the restoration of turning Tric into a real nightclub in the future. Right now, it's just a space for fans with tons of photo ops and iconic set recreations. Here's a photo of me holding hands with Lucas Scott. Just ignore the fact that his arm is ripped from its socket. It's fine, he loves me.
I regretted picking up merch the day before because Tric surprisingly had the best selection overall. I picked up a few magnets since I already bought a T-shirt, but the shirt and hoodie selection here was seriously top-tier.
1:30 p.m.-3 p.m.: After Tric, we had time for one last meal before catching flights out of North Carolina. We stopped by Anne Bonny's bar and grill, which is located right on the river — yep, that river court river. Sadly, the river court is no longer there, but I pretended I could see Lucas and Nathan shooting hoops off into the distance as I enjoyed my frozen cocktail.