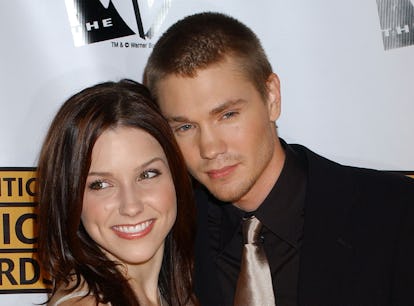 Inside Chad Michael Murray & Sophia Bush's Messy Relationship Timeline
Queue up Gavin DeGraw, and let's dive in.
Gregg DeGuire/WireImage/Getty Images
The only thing more dramatic than Lucas and Brooke's rollercoaster romance on One Tree Hill? The real-life story behind co-stars Chad Michael Murray and Sophia Bush's relationship. The couple's whirlwind romance started when they met on set in 2003, but it ended way before Murray left the show in 2009. For four years after their split, the actors worked together — and although they kept it pretty professional, the inherent messiness of playing 2/3 of a love triangle while going through a divorce cannot be ignored. According to Bush, producers even made the breakup part of the show's marketing campaign, "taking advantage" of the situation.
So, what really went down between them? Here's a full timeline of their relationship.
2003: Chad & Sophia Met On Set
Murray and Bush met on the set of One Tree Hill, which started filming in 2003. "She's wonderful, she's kind, she's intelligent, and she makes me happy," Murray told MTV while they were together. Throughout the show's first season, their characters explore a romantic relationship, sharing their first kiss in Episode 9.
2004: Chad Proposed To Sophia
In the spring of 2004, Murray proposed. "I woke up one day and I said, 'This is the woman I want to spend the rest of my life with,'" he recalled to MTV at the time. He went for a grand gesture, filling his penthouse with 500 candles and spelling out "I love u" with lights on his building's tennis court. "That was probably the most nerve-wracking thing I've ever done in my life," he added.
April 2005: They Got Married
The couple tied the knot on April 16, 2005, about two years into dating. They got married in front of 200 guests in an oceanfront ceremony in Santa Monica before having a reception at Hotel Casa del Mar.
September 2005: They Separated
Five months after their wedding, Murray and Bush called it quits. Per People, at the time, Bush released a statement: "This is a difficult and unfortunate situation. I am glad this is being resolved sooner rather than later."
February 2006: Sophia Filed For Annulment
In early 2006, Bush filed for an annulment, citing fraud, but was denied. According to People, one of Bush's friends claimed, "Sophia went into the marriage believing in the sanctity of marriage, and Chad simply did not share that vision."
Rumors began swirling that Murray cheated on Bush with Paris Hilton. Though they were never confirmed by anyone directly involved, Nick Carter — who was dating Hilton during Murray and Bush's brief marriage — claimed that Hilton cheated on him with Murray, per The Daily Mail.
December 2006: Chad & Sophia Finalized Their Divorce
Murray and Bush's marriage officially came to an end in December 2006. Per People, both parties waived spousal support.
2014: Sophia Dished On Working With Chad Post-Divorce
Even after their romantic relationship was over, Murray and Bush still had to work together on the set of One Tree Hill. Bush shared more about that experience on Watch What Happens Live in 2014. "At the end of the day, we're grown-ups, and I actually think it's interesting that when people split in a way that's unpleasant, they usually just go on quite literally hating each other — or the person in my situation hates the other person, whatever — but when you have to work with somebody for another half a decade, you kind of have to deal with it," she said, per The Daily Mail. "Because for me, at the end of the day, my job is my priority."
Important note: Murray went on to date and propose to One Tree Hill extra Kenzie Dalton, who was an 18-year-old high school senior at the time of their engagement. The duo were together for seven years before splitting up, per PopSugar.
February 2017: Sophia Wrote About Not Finding "The One"
For Cosmopolitan's February 2017 issue, Bush wrote about not looking for "the one" anymore, alluding to her relationship with Murray. "In my 20s, when I was starting out my career as an actor, I wasn't looking for a relationship, but one found me and became serious, even though I hadn't planned to settle down until my 30s," she wrote. "But when the person you're with asks you to marry him, you think: This must be happening because it's supposed to."
2018: Sophia & Chad Talked (Separately) About Their Marriage
On June 13, 2018, Bush went into more detail about the pressure she felt to tie the knot. During an appearance on Radio Andy With Andy Cohen, she admitted that marriage "was not a thing [she] actually really wanted." When asked why she went through with it, she explained, "Because how do you let everybody down, and how do you — what's the fight? And when you have bosses telling you that you're the only person who gets a person to work on time, and 200 people either get to see their kids at night or they don't because our days start on time?"
Later, Bush clarified on Twitter, "Don't twist people's words, y'all. If it wasn't clear, I was making fun of MYSELF. And if all the years that have passed haven't made it WILDLY clear that we're all grown ups who've become the best versions of ourselves, then I just don't know what to say. And PS, if my teasing MYSELF on the radio today — for my past — hurt anyone's feelings, I am sorry."
The next day, Murray weighed in on her comments through his rep. "This story is ludicrous. Chad conducts himself in a completely professional manner and would never marry for any reason but love," his rep told Us Weekly. "Thirteen years since his divorce from Sophia, he has a very happy family life with his wife and children. He has completely moved on and doesn't feel the need to engage in this type of behavior."
2021: Sophia Stopped Talking About Their Past
Bush might have been open about her past with Murray at times, but she eventually decided their relationship should be off-limits. When asked about him on Michael Rosenbaum's Inside of You podcast, Bush made that clear: "Oh, I'm not going to talk about him. I'm not allowed to because I've tried to poke fun at being a dumb kid and whenever I've done that, it gets twisted into I'm talking sh*t about somebody who I don't even know anymore, who's clearly a grown-up."
She added, per People, "I've tried to, like, you know, do the thing where when I get stuck live on the air — which has happened to me twice — getting asked about it where I give a little, like, jazz hands quip and move on, it just doesn't work, so I'm not going to... I was a very naive 21-year-old kid, and that's all there is to it."