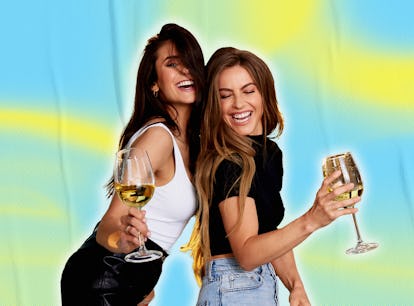 It Was "BFF At First Sight" For Nina Dobrev & Julianne Hough
The Fresh Vine Wine co-founders share the best sips to pair with your summer hangs.
Elite Daily; Courtesy of Fresh Vine Wine
Nina Dobrev and Julianne Hough would agree that it's always best to wine down with your "partner in life and crime," in both business and in pleasure. The IRL besties, who met through a mutual friend in 2012, took their friendship to the next level co-founding their brand, Fresh Vine Wine, in 2019. Despite their busy schedules, the Vampire Diaries alum and the Dancing With The Stars host still make time to hang out together and believe their side venture has actually brought them closer. "I feel like we see each other even more now," Dobrev tells Elite Daily in a joint interview. "We started the company because we both really loved wine, we loved to share memories together, and we drank wine while we shared our memories. In a way, it sort of bled into this business."
It's not all work and no play, though. The Fresh Vine Wine co-founders have also found ways to incorporate their delicious brand into their day-to-day by bringing their varietals along with them for bestie hangs, both at home in California and when traveling together abroad — a nod to the wine's branding. "Our brand is specific to somebody who likes to have an active and balanced lifestyle," Hough says.
Practicing this work-life balance, the two ensure that Fresh Vine Wine is invited to all their special occasions. For example, after celebrating National Wine Day together — FVW in hand — on May 25, the BFFs solidified their plans for National Rosé Day on June 10 while chatting with Elite Daily. With the unofficial start of summer finally here, Dobrev and Hough share their party-planning hacks and which wines pair best with different friend activities.
This interview has been edited and condensed for clarity.
Elite Daily: It's been almost four years since you founded Fresh Vine Wine. How has the brand grown since you first partnered?
Nina Dobrev: It's been quite an exciting roller coaster journey. We're in 48 states, which for such a short time has been a pretty exciting growth that we've had. We've launched so many new varietals, activations, and events. We've shared our baby with our friends and family, and it's been such an exciting new chapter to share it with the world.
ED: Starting a business with your bestie can't always be easy. How are you able to navigate the difficult times?
Julianne Hough: We have great communication. The best thing you can do with your friend is just be honest, direct, and straightforward from the get-go. We're able to challenge each other in ways that complement each other's strengths.
ED: Since your wine caters to those with an active lifestyle, what's your favorite bottle of Fresh Vine Wine to pair with a yoga workout?
ND: I think heading into the summer season, it would obviously be Rosé. Generally with working out, yoga, or health and wellness, our lighter wines definitely are what people would go for.
ED: For a pool day, which would be your go-to wine?
Both: Rosé.
ED: For a movie night?
JH: Pinot.
ED: For an outdoor picnic?
JH: I would do a Chardonnay or the Sauvignon Blanc.
ND: I'll go with Chardonnay.
ED: What about dancing at a club?
ND: The Brut Rosé.
JH: Oh, definitely a good choice.
ED: What about a double date?
ND: A Cabernet.
JH: Cabernet, definitely.
ED: For a special occasion?
ND: If it's an anniversary or a birthday, then you pop out the Cabernet Reserve.
ED: For a wine night after a breakup?
ND: I feel like for me, a Cab for a breakup. And then for a girls night in with a bunch of girlfriends, maybe the Pinot.
JH: Yeah, Pinot, Chardonnay, or maybe a bit of both. Start with the Chardonnay and move on to the Pinot.
ED: What is your favorite kind of girls night together?
ND: We drink wine while one of us cooks for the other one. Then, we sit on the couch and gossip and catch each other up on what's been going on in our lives. Usually, we'll start at 6:30 or 7 p.m. We'll complain about being tired, but then we'll end up staying up until midnight talking on the couch. And then Jules will fall asleep.
JH: I always fall asleep. I have no shame in being like, "I'm out." That's a great girls night for us because it doesn't feel chaotic or spontaneous. It feels stable and is the most boring, but chill night. That's what I want to do.
ED: You met through a mutual friend, but when was the moment you knew that you two would be best friends?
ND: Instantly.
JH: Yeah, immediate.
ND: It was the best friend at first sight.
ED: You like to throw parties together. What are some tips or hacks you have for the perfect get-together?
JH: I really like icebreakers, so doing some sort of activity that allows people to get to know each other is great. If it's a sit-down dinner, have questions at your table and go around and answer them so people can get to know you.
Also, having different stations, like a food station and a bar station, keeps the party flowing, and you can mingle in between. And then, a good scent or candles are always really important to set the mood and activate the senses. I try to make sure that all five senses are activated when you're holding a party because that's what you remember.
ED: There are also so many holidays dedicated to wine, but how did you celebrate National Wine Day?
ND: We had a pseudo pool wine day at Jules' house for National Wine Day this year. Then for Memorial Day, we flew up to Napa for a wine Napa weekend.
ED: There's also Rosé Day. How will you be celebrating?
ND: For Rosé Day, I mean, that's pretty obvious. We're just going to Rosé all day, baby.
JH: I'll be in New York, so maybe I'll head to the Hamptons. I feel like with Rosé, if you can find water, go be by the water. Be on the beach, if you can. If you can't, then just drinking Rosé makes you feel like you're on vacation on a beach somewhere.
ND: I'm going to be in New York too, Jules. We should do something.
JH: I love it. Let's do it!
ED: Speaking of summer, what is your go-to summer sip?
ND: I love a spritz. I'll do a rosé fruit spritz. I've even been crazy enough to put some Aperol in there occasionally and mix it up with the Rosé Spritz Champagne.
JH: I do this interesting cocktail that's so refreshing. It's pretty dangerous because you don't really taste the alcohol, but it's Rosé, St‑Germain, a little bit of Hendrick's, and some lavender or rosemary. Maybe a tiny little bit of lemon or melon.
ED: Do you have any summer traditions together?
JH: I used to go to Idaho every year and Nina has come a few times, but I think in general, we don't go to one place now because we love to travel and experience new things. Whatever it is, we're always coordinating each other's schedules and calendars so that we can meet in a new place, experience a different culture or city, and obviously try the different wines there and feel the inspiration behind them.
ND: I second that. I also smuggle in our wine whenever we travel.
JH: Yes, she does.
ND: I brought our wine to France two years ago, and then I brought our wine to Indonesia for my birthday.
JH: And Ibiza.
ED: Where was the best place that you've ever traveled to together or a place that you would recommend for other friends to go on their bestiemoon?
ND: Indonesia's the most recent one. We've been there twice together, so that's a fun one. But then, we've done a couple of Cabo trips that are closer by, so it's a little bit easier to get to. For Jules' birthday, we did a "Bird hop." We would rent Bird scooters in Venice and barhop, but the scooters would be gone every time. So we'd have a scavenger hunt for new Birds nearby. We may or may not have crashed into the beach at one point towards the end.