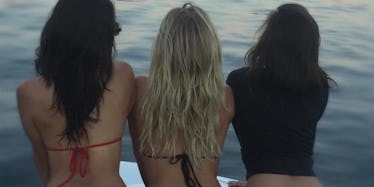 Nina Dobrev And Julianne Hough Showed Their Bare Butts To Honor The Full Moon
Instagram
What's the one thing you always break out when you know your bestie is in town?
That's right, BUTT CRACKS!
LOL, right ladies?! Honestly, if we're keeping it 100 — and, trust me, my life is a constant tightrope walk to keep it 100 at all times — I didn't know butt cracks were a cool thing until today.
Nina Dobrev and Julianne Hough are giving us one more thing to keep on fleek, and, honestly, I'm already so fleeky and so exhausted.
Having to keep my butt crack on fleek at a Dobrev/Hough level is going to be a constant, committed effort.
I mean, look at this.
The besties vacationed in Idaho with pal Milissa Sears and decided to say "fuck it" to pants.
They boated on calm waters.
They baked in hot sun.
They cuddled on the couch.
And Nina slow-motion ate it on a wakeboard.
Reassuringly, it looks like the butt crack portion of the trip was brief.
It's not like they had their butt cracks out the ENTIRE time. Like, I'm probably never going to show up to a four-hour birthday party and be told to drop my underwear in a bin at the front door because, baby, we're goin' cracks out tonight!
Still, the anxiety consumes me.
Citations: Daily Mail