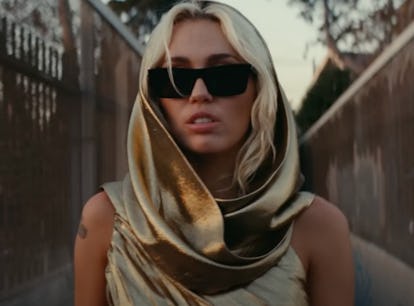 How To Get Miley Cyrus' "Flowers" Snapchat Lens To Channel Her Vibe
Don't forget to write your name in the sand.
Miley Cyrus' dropped her new breakup anthem "Flowers" on Jan. 13, and fans are loving the catchy tune that voices her self-love. The music video shows Cyrus living her best life and being a total badass in the process. It kicks off with Cyrus in a pair of black sunnies as she struts through Los Angeles with her newfound independence. Her video has 49 million YouTube views as of Jan. 18, and you can keep the fun going with Miley Cyrus' "Flowers" Snapchat Lens. Here's how you can get the filter based on the hit song to channel her post-breakup energy.
Even before it was released, fans theorized "Flowers" is about Cyrus' breakup with Liam Hemsworth (there's no way the birthday drop was a coincidence), and the lyrics hint at it: "I can buy myself flowers / I can hold my own hand / I can love me better than you can / I can take myself dancing..." You may notice they sound familiar to Bruno Mars' "When I Was Your Man" lyrics, and that's apparently not a coincidence — Hemsworth reportedly dedicated the track to Cyrus at some point in their relationship.
"Flowers" is clearly about owning your independence, and the video is filled with Cyrus basically having a blast. But it all starts with the shades, and that's what you'll get in the "Flowers" Snapchat Lens. The filter imprints the above lyrics onto a pair of black shades, so you can feel like Miley and take on 2023 like the baddie you are.
How To Get Miley Cyrus' "Flowers" Snapchat Lens
Open Snapchat and click on the smiley face icon to the right of the camera button to open up Lenses.
Hit "Explore" on the bottom right.
Type "Miley Cyrus Flowers" into the search bar and the filter should appear as the top result.
Click to open the filter and do your best Miley-inspired pose.
Tap the screen to change the lyrics on your sunglasses.
The Snapchat Lens also plays the song in the background, so nothing's stopping you from jamming out to the beats or singing along for the full "Flowers" experience.
If you're on a mobile device, click here for a shortcut you can scan with your Snap Camera and open the "Flowers" Lens.
You might need to take a trip to LA to recreate the music video, but you can look like Miley in no time with this selfie filter. Bonus points if you're wearing gold or casually chilling by the pool in lingerie. It's time to fire up "Flowers," pull up your Snap Lens, and go on a Cyrus-inspired hot girl walk.