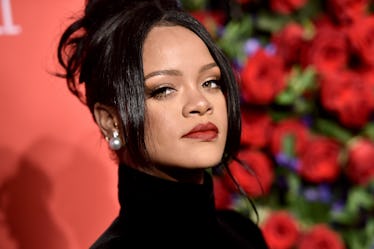 10 Rihanna Songs To Listen To Before A Date To Feel Like A Baddie
Please don't stop the music!
Steven Ferdman/Getty Images Entertainment/Getty Images
You better "work, work, work, work, work" if you're listening to Rihanna's music tonight. The "Umbrella" singer is an icon and over the course of her 16-year career, she's made plenty of songs that get people in the mood. Whether it's "Talk That Talk" or "Rockstar," there are tons of great Rihanna songs to listen to before a date, because the icon knows just what to say to get people on their feet. Her jams will put you in the mood for some special lovin' and they'll even make you feel more confident than the "bad gal" herself.
With eight studio albums under her belt, Rihanna has proven that her music sells like hot cakes in the hip-hop world. And given her newfound billionaire status, you can bet that Rihanna knows exactly what it takes to be successful. In fact, her 2016 bop "Needed Me" almost has 1 billion streams on Spotify, and you can bet your bottom dollar that you can add that to your date night playlist. If you want to know what other Riri songs you should listen to right before a date, scroll below!
These 10 songs will give a Rihanna level of confidence on your date tonight. Have fun!