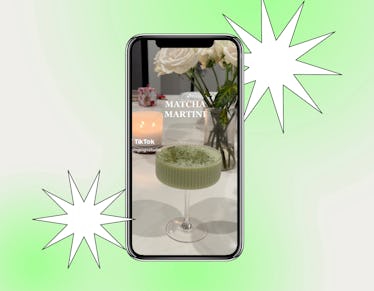 How To Make Matcha Martinis From TikTok For A Sweet Boost
Green tea and booze? It's a matcha made in heaven.
TikTok/Elite Daily
Move over, espresso martinis, because there's a new caffeinated cocktail trending on TikTok for 2023. While a spiked coffee martini might be your go-to for fueling a night of dancing, adding some smooth matcha to your boozy latte instead will also give you a boost of mild caffeine without the jitters. The foodie side of TikTok is buzzing for matcha martini recipes that are an earthy and sweet matcha made in heaven, and the trendy sip also happens to be super 'Gram-worthy.
There are so many ideas for matcha martinis to scroll through on TikTok, but this easy matcha martini recipe by @yourdashofashe shows you how to make the drink from scratch at home, all the way from the simple syrup to freshly frothed matcha. As long as you have the superfood powder on hand, plus some sugar, heavy cream, and alcohol of choice (this recipe calls for either vodka or tequila blanco), you can impress your besties with your bartender skills as you serve up this playful and chic cocktail that's the perfect spring pick-me-up. If you normally stray from green tea lattes because they can sometimes taste like watery grass, you can double the simple syrup measurements in this martini or sub the heavy cream for vanilla sweetened creamers.
How To Make The Matcha Martini From TikTok
You'll need:
1/2 cup sugar
1 cup water
1 tbsp matcha powder (sweetened if preferred)
1/2 cup vodka (or tequila blanco)
1/4 cup heavy cream or dairy free creamer
Ice cubes
To make the simple syrup, heat 1/2 cup of water and sugar in a saucepan over medium heat, stirring until dissolved.
In a small bowl using a milk frother or matcha whisk, combine the matcha powder with 1/2 cup of hot water. Blend until smooth.
In a martini shaker and using a jigger to measure, add two parts of matcha (4 oz), one part vodka (2 oz), a half part of cream (1 oz), and a half part of simple syrup (1 oz). Fill will ice and shake vigorously to blend.
Pour in a martini glass, garnish with a sprinkle of matcha powder, and enjoy.
TikToker @p0tatoprincess posted her matcha martini recipe with the text, "Besties I'm moving on from espresso martinis... Still getting the caffeine fix without the crash. Plus matcha is an antioxidant so we're basically reversing the alcohol right?"
While her assumed wellness effects may be wishful thinking, it's true that matcha won't make you spike or crash, rather giving you an experience of calm alertness. That's because matcha contains lower levels of caffeine than coffee and also has L-theanine, which makes the dose of energy a lot gentler and longer lasting. If an espresso martini gives you the jitters instead of a blissful buzz but you still need an energy boost for a fun night ahead, a matcha martini may be worth a try. Also, she wasn't wrong to also point out that it makes for the prettiest green cocktail. TBH, the bright color is one of the best parts of sipping on a matcha drink and makes the glass so photogenic. After you've shaken the martini up, you can also garnish the frothy top with an added dusting of vivid green matcha powder.
If you want a break from your go-to espresso martini or aperol spritz, matcha martinis are ideal for a fun girls night in, weekend brunch, or a pregame session before you start the night. Plus, this aesthetic cocktail would be great served for St. Patrick's day as a grown-up "shamrock shake."