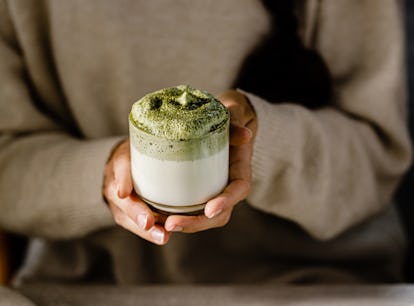 Kourtney Kardashian's Whipped Matcha Recipe Is So Easy To Make
"ABCDEFG I have to go" try this rn.
alvarez/E+/Getty Images
Sure, you may be a "but first, coffee" kind of person, but you'll want to swap out your go-to brew for Kourtney Kardashian's whipped matcha recipe for the new year. Remember when whipped coffee was all the rage on TikTok back in 2020? Well, it seems Kardashian is bringing back the whipped drink trend, but this time with some matcha instead of instant coffee.
Matcha is a great source of caffeine when you need an energy boost, but it also has plenty of health benefits as well. Considering Kardashian's latest wellness project is launching a line of vitamins and supplements from her company Lemme, it makes sense that she's now into healthy matcha in the morning. Matcha is packed with antioxidants, can help improve your brain function, and is good for your heart. The fact that this matcha recipe is tasty too is just an added bonus.
Kardashian has shared her go-to matcha latte recipe on Poosh before, which includes matcha, almond milk, and organic maple syrup. However, it seems like she's been enjoying some whipped matcha lately. On her Insta Story Dec. 30, The Kardashians star posted a photo of some whipped matcha in a Grinch mug along with a link to Poosh's whipped matcha recipe. If you're "just living life" right now and want to try something new and delicious, here's what you need to make your own matcha drink Kourtney Kardashian-style.
How To Make Kourtney Kardashian's Whipped Matcha At Home
According to Poosh, the recipe for whipped matcha will actually take you less time than Kardashian's matcha latte recipe. However, you will need more ingredients. To whip this up yourself, be sure to grab the following from the grocery store:
2 tablespoons matcha
4 tablespoons coconut whipped cream
Honey
1 cup of your choice of milk
Kardashian, of course, keeps it vegan with a plant-based milk, but you can really use whatever you have at home. The honey can also be substituted for a vegan-friendly sweetener.
You can just use a spoon to mix your whipped matcha by hand, but it'll take awhile to achieve the perfect whipped texture. You'll also want to get yourself a frother if you don't already have one at home. There are some pretty cheap frothers on Amazon, like this one with a 4.5 out of 5 rating for just $8. It's a good investment if you like to enjoy whipped coffees or even want to make your own cold foams for Insta-worthy Starbucks copycat drinks at home.
To make the whipped matcha, you'll want to mix together your matcha, whipped cream, and honey together. Once that's mixed together in a cloud-like foam, pour it into a glass of milk, and enjoy!
It's really that simple to make some whipped matcha. You may even want to film your process for a TikTok video and bring back whipped drinks to the FYP. For Kardashian's matcha recipe, she uses the Matcha Purity Powder from Matcha Bloom, which is available on Poosh for $34. Poosh also suggests adding the whipped matcha on top of Kardashian's matcha latte if you want an extra dose. Another way to enjoy this recipe is by adding strawberry milk for a matcha strawberry drink that has some additional sweetness. The pink milk with green foam on top will definitely stand out in your foodie pics on the 'Gram.